Chipping Ongar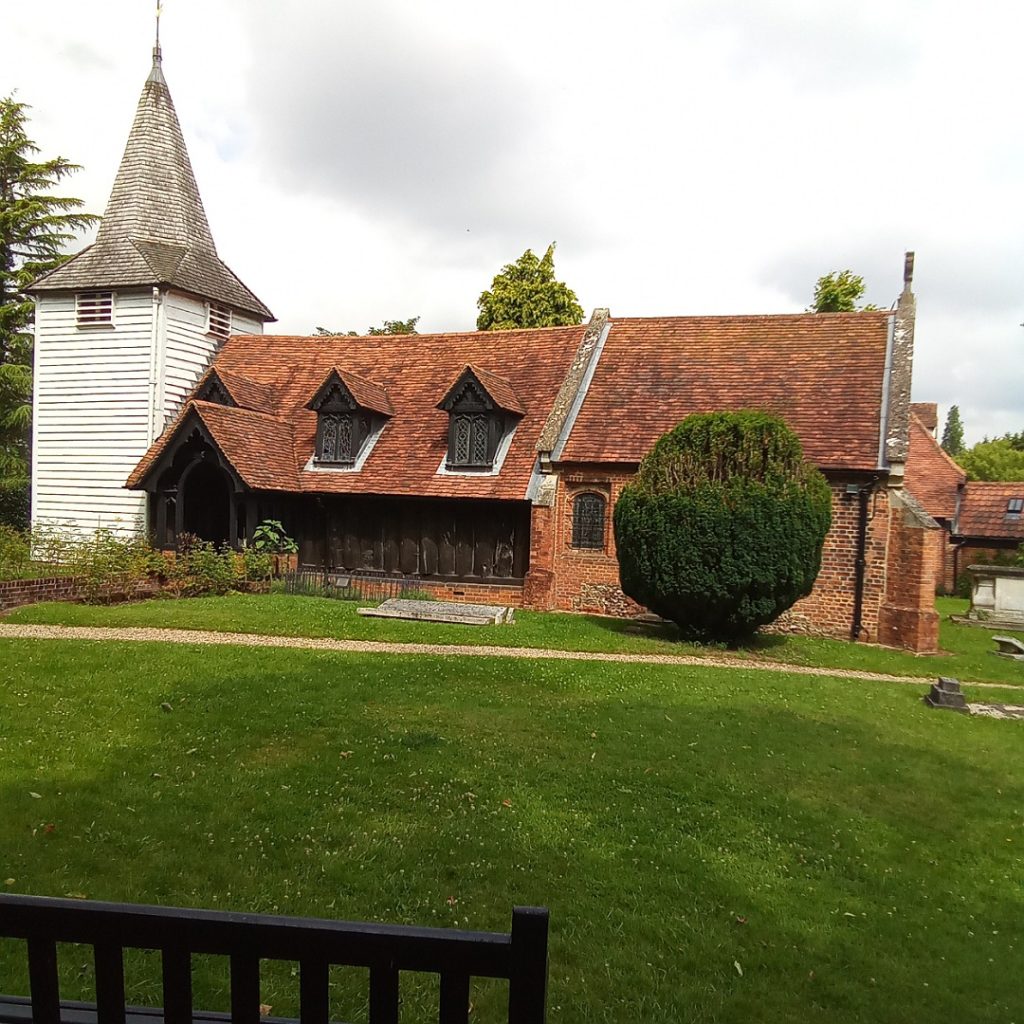 This walk takes me to the far east of the Epping Forest District to Chipping Ongar, at the end of the Epping Ongar Steam Railway line. The more modern 14th century name of Ongar was thought to mean 'Grass Land', with the pretext Chipping coming from an old English word refering to 'Market Place'. Ongar was a principle town in the Saxon Hundred and Administrative centre for over 1000 years, built on a direct route to London. The town is surrounded by open countryside and it is this countryside that has drawn me to explore the public footpaths and ancient byways here.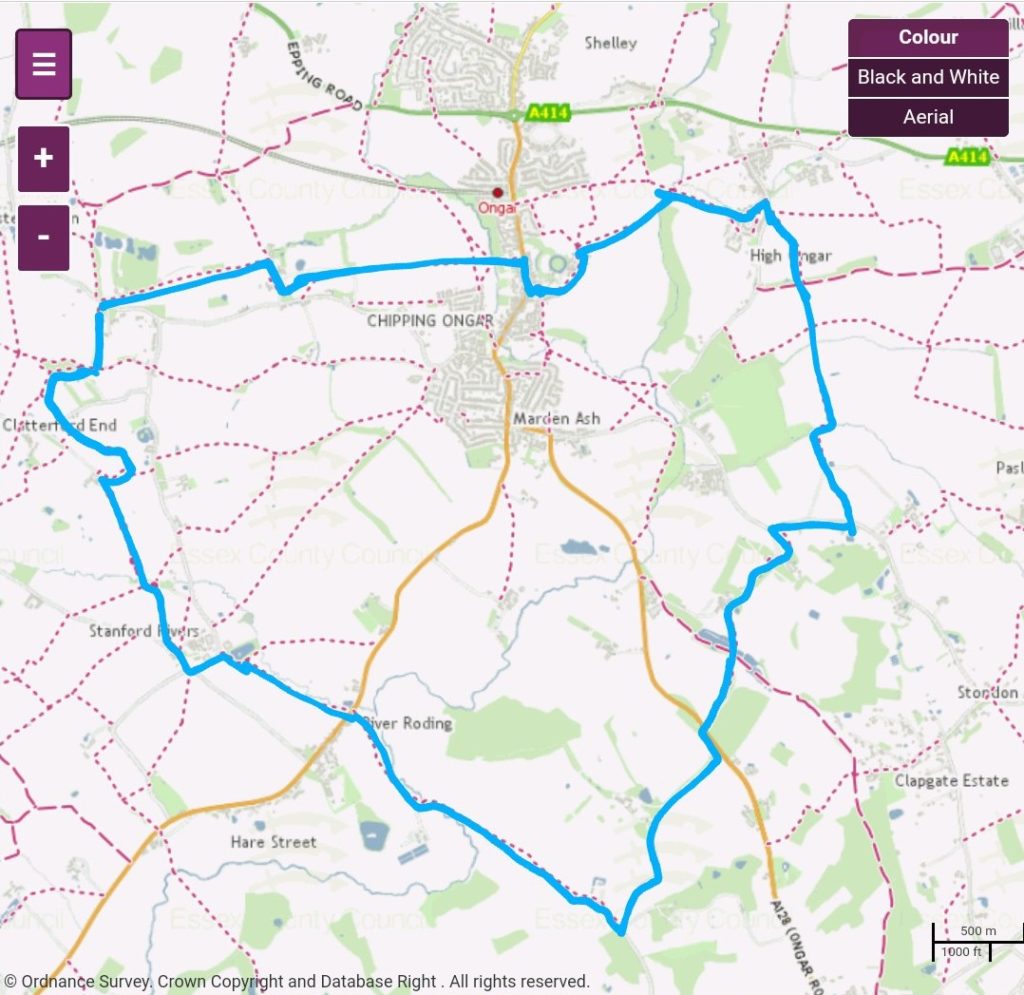 Ordnance survey map credit to Essex County Council
https://www.essexhighways.org/getting-around/public-rights-of-way/prow-interactive-map
The town centre has a number of beautiful old buildings, a large amount of which are original timber framed houses. There are over 100 listed buildings in Ongar, 70 of these just around the High Street alone. Outside the town centre some fascinating relics survive including what is reputed to be the oldest wooden Church on Earth and the site of a 12th century Norman castle. A number of prehistoric sites have been identified along the river Roding throughout its route across Ongar.
I start this walk from the High Street and turn down Bansons Lane. Walking west past Sainsbury's and the Skate Park I enter the gate to the Essex Way, crossing Cripsey Brook and then follow public footpath number 45 (Ongar) across the fields for around three quarters of a mile until I reach Greensted. To the West of Ongar situated on part of the route of the Essex Way is St Andrews Church. Believed to be the oldest wooden church in the world, and possibly the oldest wooden building in Europe still standing. Parts of the Church date back to the 9th and 10th century. It was built using traditional Saxon building methods and tool marks from construction are still visible inside. In the outer Nave wall at the rear of the Church a Leper Squint remains near the ground, where the afflicted could receive Communion. Archeological excavations have uncovered evidence of a 7th century shrine on the grounds dating from around the time St Cedd was converting the Saxons to Christianity. The Oak timbers which form the Nave of St Andrews were cut around 6 years before William the Conqueror arrived.
There are many tributes to King Edmond the Martyr of East Anglia, killed in 870 by the Danes for refusing to renounce his faith. The stained glass windows depict the Martyr. The story of his demise was grim, first he was tied to a tree and then his body was filled with arrows. His missing head is then found by his devotees thanks to the cries of a mystical Wolf. Carved on a beam near the entrance is a Wolf guarding the severed head. His body was said to have been rested here for safe keeping from Viking raids in 1013 on it's way to reburial at Bury St Edmonds. In the Churchyard is the grave of an unknown 12th century Bowman who is believed to have died on a crusade. There is also the grave of the rather unfortunate Mr Edward Edwards who died in 1842 from an accident with a scythe while trying to win a drunken bet, his grave is marked with an unusual wooden memorial.
During Medieval times most wooden Churches were rebuilt in stone, but somehow St Andrews seems to have been overlooked. Historic England gives some fascinating insights into the founding and building of the Church and it's long history as a place of worship.
Leaving St Andrews at Greenstead I turn right and continue north along public footpath number 50 (Ongar) for a short distance before turning left along public footpath number 49 (Ongar) which I follow for just under half a mile to Greensted Road. I cross the road here to pick up public footpath number 53 (Ongar) which I follow south to Widows Farm. Here I turn right following public footpath number 5 (Stanford Rivers), then bear left along public footpath number 12 (Stanford Rivers) and left again after a short distance along public footpath number 11 (Stanford Rivers) which takes me to Toot Hill Road. Here I cross over turning left and then right to follow public footpath number 8 (Stanford Rivers) in a south easterly direction for around 375 yards before turning right along public footpath number 53 (Stanford Rivers) which takes me into Coleman's Farm. Here I continue south east past the front of the farm cottages to pick up public footpath number 55 (Stanford Rivers). After crossing the brook I bear left before turning right onto public footpath number 36 (Stanford Rivers), which leads me to School Road beside the 12th century St Margaret's Church at Stanford Rivers.
This is similar in style to many of the smaller churches in this part of Essex which frequently sport a weather-boarded spire. Like St Mary the Virgin in Stapleford Tawney, this church was constructed using flint rubble and also contains some reclaimed Roman brickwork and cement. The intervening centuries have seen many adaptions and repairs carried out to the building, particularly in the 14th and 16th centuries. Some 15th century panels survive around the main alter and a number of 15th century benches also remain. Records show that one of the church bells was sold in 1806 to raise funds for repairs. There are also records showing the church suffered blast damage from a flying bomb in 1944. In spring the churchyard in front of the building becomes a delightful sight carpeted in masses of pale yellow primroses.
Here I turn left and follow the bend in the road for around 200 yards to the next bend where I turn right into the field to follow public footpath number 32 (Stanford Rivers) continuing south east for 150 yards before turning right along public footpath number 34 (Stanford Rivers) which I remain on until I reach the A113 London Road. Crossing straight over I follow public footpath number 59 (Stanford Rivers) down to the water treatment works before bearing left and crossing the river Roding to follow public footpath number 16 (Kelveden Hatch) south east through Germains Farm, eventually exiting onto Kelveden Hall Lane beside Germains cottages. Here I turn left and stay on Kelveden Hall Lane until I reach the A128 Ongar Road, where I turn left again before picking up public footpath number 3 (Kelveden Hatch) on my right just after Menageria Wood. Ongar Road can be quite busy, so care should be taken here.
I now head in a north easterly direction eventually crossing a bridge over a lake onto public footpath number 2 (Kelveden Hatch) and continue along a track for around half a mile before turning left down public footpath number 2 (Stondon Massey) and reaching Ongar Road, where I turn right. After around 500 yards I pick up public footpath number 1 (Stondon Massey) on my left heading in a northerly direction for around 580 yards before crossing a small brook to continue north along public footpath number 8 (High Ongar), which I remain on for around three quarters of a mile exiting on Mill Lane at High Ongar. Here I turn right along Mill Lane for a short distance before turning left beside number 66 Mill Lane to join public footpath number 5 (High Ongar) which I follow in a westerly direction for around 650 yards until I reach the river Roding. Crossing the river I immediately turn left in a south westerly direction along public footpath number 4 (Ongar) for around 600 yards, before turning left onto public footpath number 7 (Ongar) which takes me around the ruin of Ongar castle. This is largely overgrown now but in places the moat is still visible through the trees.
The site of the Norman castle is just east of the town centre. This was a Motte and Bailey enclosure with moats and walls to keep invaders out and contained a village settlement within the fortress, overlooked by a Castle built on the elevated Motte. This was possibly originally built by Eustace ll Count of Boulogne who obtained Ongar in 1086, the first recorded mention of the Castle was in the 11th century and it was occupied until the 16th century when it was demolished. It was replaced by a brick building which in the 18th century was also demolished. One can only guess if such a large and imposing fortress was intended to protect or to subjugate it's local inhabitants.
Although no formal excavation has ever been carried out on the site informal digs have unearthed Norman, Saxon and Roman relics. It is beyond doubt that many more artifacts and structures will remain buried below the ground here. Only the groundworks remain which are now on private land but are visible from a nearby public footpath. News reports reveal that a previous owner of the site was 82 year old Mrs Margaret Buxton, a decorated Historian who had lived beside the site of Ongar castle with her late husband for many years. In 2013 she was included in the Queens Birthday Honours list and awarded a CBE for her services to Historical Scholarship. Ecclesiastical History and the Late Medieval Period were her main passions. She published a number of books under the name of Dr Margaret Aston and lectured at both Oxford and Cambridge universities. She was also patron of the Ongar Millennium History Society. In November 2014 Margaret Buxton was sadly found unresponsive in the moat of Ongar castle. The local press reported that she had died from natural causes.
The Independent writes a touching obituary outlining the personal life and distinguished career of Margaret Buxton aka Dr Margaret Aston.
On this rather sad note I continue past the castle ruin onto Castle Street and through the peaceful churchyard of St Martins before finding myself back on the High Street where I reflect on the ancient history i have encountered on this walk, which is quite unlike any of the treasures i have seen on previous walks in the district. Chipping Ongar on the furthest eastern reaches of the Epping Forest District is a unique town which has much to offer. The public footpaths here run just feet away from some of the areas most precious relics from centuries gone by, and the countryside the town is nestled in is simply beautiful. Many of the outer lying villages have the most intriguing place names such as Toot Hill which at over 300 feet above sea level was once a lookout post and the nearby mysteriously named 17th century Repentance Cottage, giving hints to the ancient history of this fascinating location on the edge of the Epping Forest District.
There are several historical references to the Toot Hill windmill which was damaged after being struck by lightning during a fierce thunderstorm in June 1829, leaving the miller Mr Rayner seriously injured. Great Myles House just on the border with Kelveden Hatch was home to 17th century politician John Luther, and at the aptly named Livingstone Cottages on the High Street is a plaque marking the place where the great explorer David Livingstone briefly stayed while training as a missionary in the 1830's. Described by his Theology teacher the Reverend Richard Cecil as 'Worthy, but far from brilliant', the 25 year old Mr Livingstone was known for his walks around the surrounding countryside and even walking as far afield as London and back.
This is a walk which can be done in sections or in its entirety by the more enthusiastic walker. The total route taken is just over 10 miles. It would not be difficult by any means to spend more time viewing some of the wonderful old buildings that survive both in the town itself and on its fringes across the fields in the surrounding villages for a satisfying day out. As always parking should only be done where permitted and with consideration for local residents in mind.