Highams Park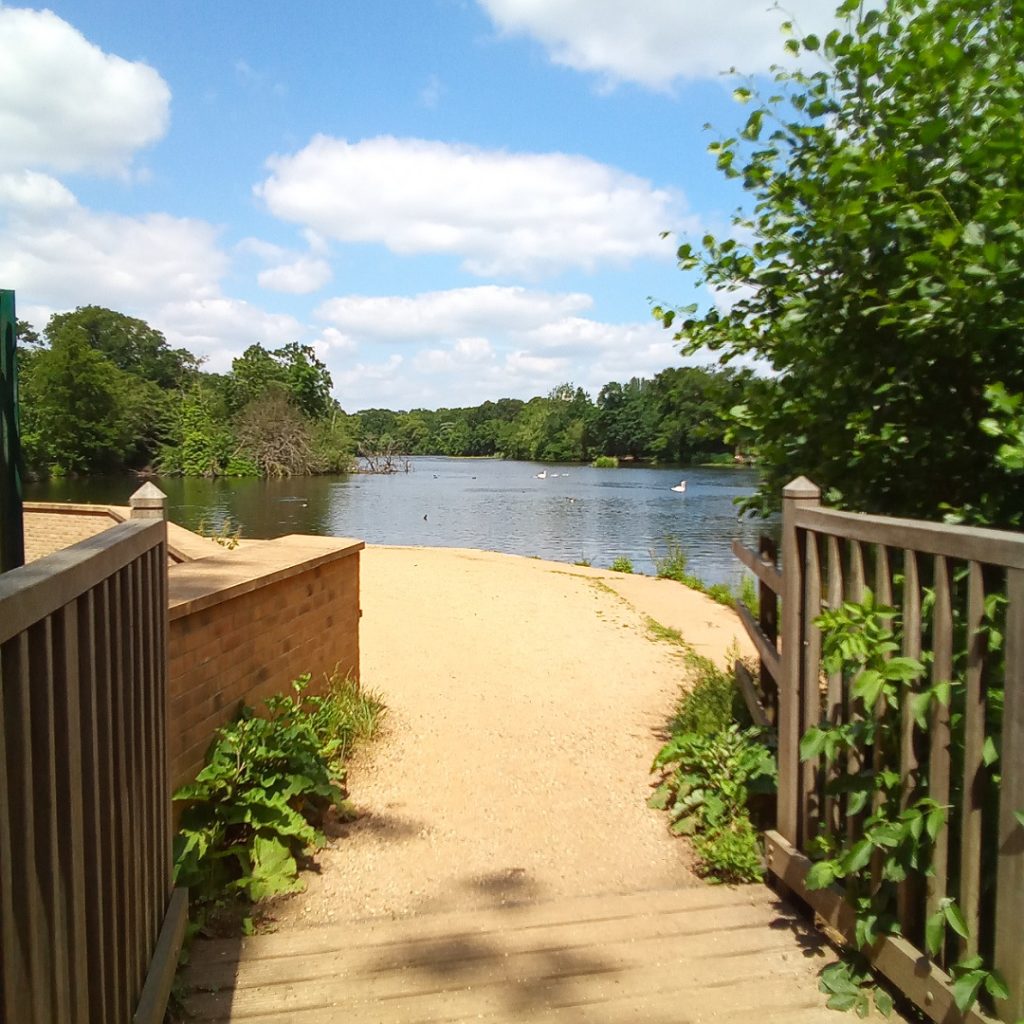 Highams Park is a Special Area of Conservation and a Site of Special Scientific Interest. This was once an area of woodland pasture believed to have been cleared by the Saxons and there have been a number of manor houses here, the original of which was nearer to the river Lea. After this was demolished a new manor house was built in the north east of the manor overlooking the green at Woodford in an area referred to as Higham Hill in the 17th century. The current building erected in 1768 had a succession of owners including MP's and State Governors before coming into the ownership of John Harman.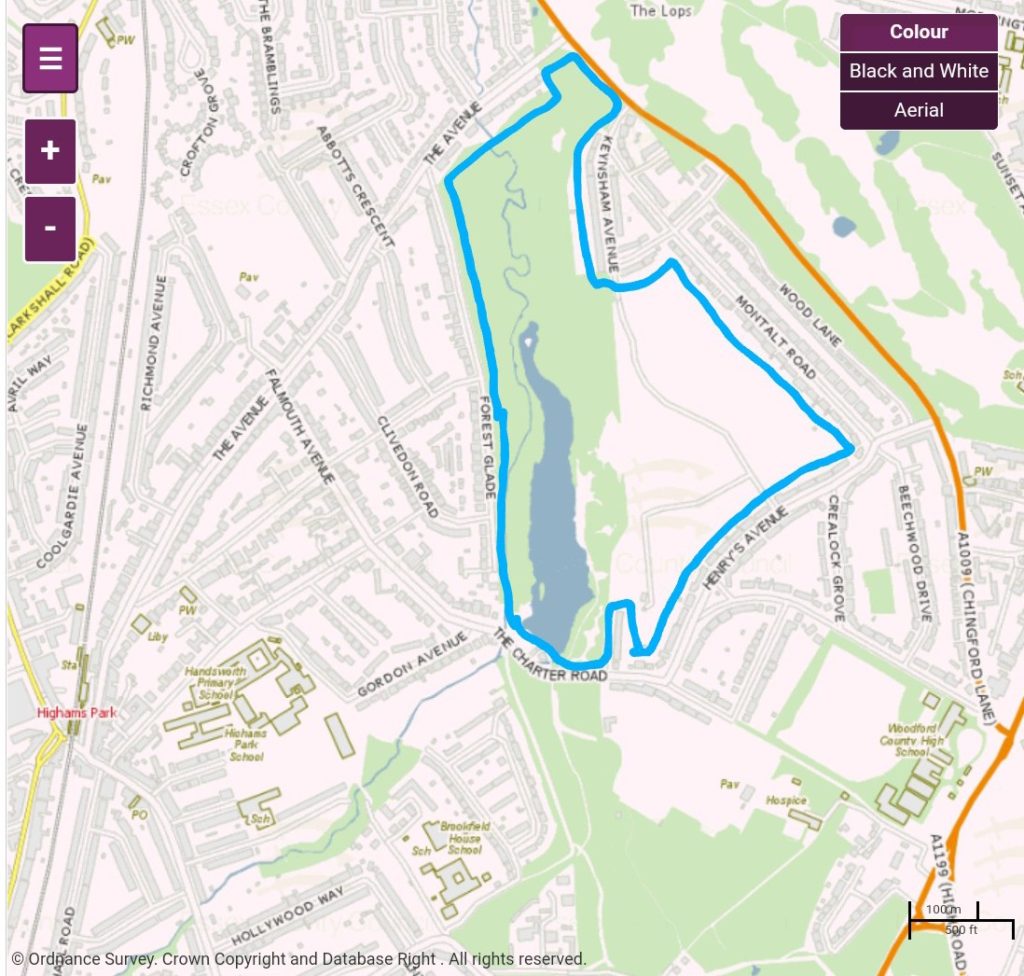 Ordnance survey map credit to Essex County Council
The park we recognise today was landscaped by Humphry Repton, whom like his predecessor Capability Brown was an expert in the technique of borrowing from the surrounding landscape by working with natural features and views to create the impression the grounds flowed seamlessly into the distance. This can be seen to great effect from the high points on the hillside above the lake in which the grounds of the park appear to sweep naturally into the distant surrounding forest. Some clues remain that this is not a natural landscape in the positioning of some mature trees which are non native and are not arranged the random way in which nature would follow. The lake was an incredible feat of engineering at its time and involved diverting the river Ching to flood the area and create one of the largest bodies of open water in Epping Forest at around 450 metres long and at its widest point around 80 metres wide. At the north east edge of the lake there are some large boulders which look out of place and are rumoured to have come from Old London Bridge as part of the original landscaping. The design was included in one of Humphrey Repton's famous Red Books, which is now held at the Vestry House Museum in Walthamstow.
In 1849 John Harman's son Jeremiah sold the Highams estate to Edward Warner. The Warner's were a very prominent family who counted prime minister William Gladstone among their guests. During the 1853-1856 Crimean War the house was converted into a hospital for wounded soldiers, and is today the Woodford County High School for Girls. The lake was given to the public as part of the forest in the late 19th century. There has been a history of boating on the lake for over 100 years and some pictures survive of an old boathouse. The current boathouse at the south of the lake has previously been leased to the Scouts who in the past have invested considerable amounts of money in developing it. In the late 1970's the lake featured in an episode of Blue Peter when the boat house roof was lifted off to remove a large yacht which had been built inside by club members. This was loaded onto a lorry to be taken to sea. From the 1960's up until the 1980's a number of scaled down yachts were built and sailed at the lake.
In addition to being pleasure gardens for a grand manor and a public park, the hillside overlooking the lake was also a home to many families from the 1940's until the 1960's when a Pre-Fab estate of 176 homes were built here after the war by Walthamstow Borough Council on agreement with the land owners. Some foundations, roads and pathways still remain from the estate and in dry summers the outlines of some of the houses can be seen in the dry grass. The former Community Hall and Sunday school building survives and is now a community cafe called Humphrys, named after the famous landscape architect. During the war this building was an air raid station and gun emplacement. My research into the estate brought me into contact with some former residents who very kindly agreed to share their memories of living there.
Phil Slaney shared the following memories of life on the Prefab estate
In 1947 when I was 2 years old my parents were informed by Walthamstow Borough Council that they had been allocated a Pre-Fab, 21 Fishers Avenue on the Highams Park Estate. My mother and father Win and Fred were delighted as my mother was expecting my brother Steve who was born in October 1947 just after we moved into the new Pre-Fab.

The Pre-Fab was a detached single storey property with its own garden and even a shed with a corrugated roof. We had two bedrooms, a lounge and kitchen and an indoor toilet and bathroom. We had electric heating, hot water and a cooker. The only problem was the winter of 1947 was one of the coldest on record. It was freezing inside the Pre-Fab and I remember scraping ice from the inside of the bedroom windows!

There were 176 Pre-Fabs on the estate and it was mostly young families who moved in after the war. I think there were around 200 children on the estate. I remember the ice cream vendor visiting the estate in the summer on his tricycle. His cooler was full of Walls ice cream cornets much to the delight of the children.

My mother was a Sunday School teacher and she would take my brother and me with her every Sunday afternoon. The Sunday School classes were held in the Community building (which is now Humphry's Cafe). I can remember singing choruses and my mother would accompany us on the piano. This building was also used for estate community events and Christmas parties.

Living on the estate gave easy access to the forest and Highams Park lake. In those days you could hire a rowing boat from the boat house and my father would take my brother and me on the lake in the summer months. I often go to visit the Highams Park and on a hot summer's day I can still see the foundations of our Pre-Fab and that brings back many happy childhood memories!
Trish Gardiner and her best friend Chrissy Hopwood both grew up on the estate
I was born 3rd May, 1948, in Walthamstow, we moved to Highams Park prefabs in 1951, when I was 3. Living in the prefabs was a wonderful experience, some of the happiest days of my life.

Our prefab had two bedrooms, mum and dads and the other I shared with my three brothers. There was a fire in the living room and although we had a bathroom, in the winter us kids would have a bath in a tin tub in front of the fire, the fire was the only form of heating apart from the cooker in the kitchen. In the winter I used to grab my clothes from the bottom of the bed and run to the kitchen, put my clothes under the grill for a few moments to warm up before getting dressed. My brothers and I used to surround the cooker for warmth before going to school. The windows would have ice on the insides and the curtains used to stick to them but it was still heaven to live there. We had so much space and freedom, such a large playground, all the trees to climb, the open fields and the lake.

The cows used to roam freely often coming into our gardens and peering through the windows, sometimes we had the odd horses coming round, one of the horses 'Sally' gave birth to a foal at the end of Troubridge Road, the road in front or our prefab. My mum was the one who everyone came to with sick or injured animals and this particular day mum came to help Sally deliver her foal. There were many little animals that we helped, once we had a baby thrush, we called it 'Brownie'. It had broken its wing or something, anyway mum did all she could for it, giving it food and water, it got better and learnt to fly again, so we released it back into the wild, it came back everyday after that to see us. We had an Anderson shelter in the garden. One day my brother Peter had put a horse in there, dad asked where it came from and Peter said it was one Dan Burgess (the forest ranger) said he could have as it had no mark on it and didn't know who it belonged to. Needless to say we had to give the horse back. Behind the shelter we had a little graveyard that we used to bury all the little animals that sadly didn't make it.

My dad also had an aviary in the garden where he kept his canaries; it measured about 10' x 6'. When dad gave up the birds he transformed it into a playhouse for me, it had two rooms, I had a table and chairs and a little cupboard. I spent a lot of time with my friends playing in it. Dad also made us jiggers (soap box carts), which we used to take up to the top of the hill at Navestock Road and ride all the way to the bottom by the Air Raid Shelters, gathering speed all the time, it was great fun. Another game we all loved to play was at the end of our path, Warrens Avenue, marbles and that was the official marble pitch, several games used to be going on at the same time.

The Sunday school was at the bottom of Troubridge Road, I suppose it was a community hall as well but that's where my Sunday school was. Next to that was the communal Air Raid Shelters leading down to Tamworth Avenue, they were good fun for children to explore and play on, we obviously wasn't allowed to but that made it more exciting. There were public toilets near them, just by the lake and the attendant used to shout at us to get away from them; we couldn't see what the dangers were, although I do remember one of the boys getting stuck inside the dark, dank place, which was really scary even when there were a few of us together.

At the lake in front of the prefabs was a place we used to call the beach, us children used to paddle and the mums and dads used to picnic on the grass. There was an older boy, Martin Murray, from Henry's Avenue, that played in a group; often they would play their music as everyone sat there. The boat house used to sell tea, cakes and ice cream and also rent out the boats, there were canoes, skiffs and family boats, all were well used and enjoyed.

In 1953 we had a street party to celebrate Queen Elizabeth II coronation, we had long tables with benches and seats from the hall and peoples homes, flags were flying everywhere and everyone joined in. There was a fancy dress parade for the children; I was dressed as a Salad Queen. Mum made a green shift dress for me and decorated it with real salad, lettuce and spring onions, I had a necklace of tomatoes and bracelets of cucumber, tomato and I think radish as well, which I did eat as the day progressed. It was a lovely day which was well remembered.

I can't remember anyone having cars on the estate, I can only remember the coalman in his coal lorry and we also had a green grocer van come round. Other than that it was a long walk to either Woodford High Road or Highams Park Village to get the groceries.

Unfortunately, the prefabs were only meant for temporary housing and after so many happy years we were forced to move out in 1960. In 1961 the last family, the Tomlins, moved away from the 176 prefabs and they were pulled down. Like many people I still have my happy memories.

The lake is still there and the Sunday school is now a store for the council, our estate is now green fields with a park on it, which I take my grandchildren to and show them where my home used to be, I tell them all the stories from my childhood.
Chrissy Hopwood recalled the golden days at Highams Park
I have such rich memories of growing up on the estate with my best friend Trish, who lived directly behind us. Trish and I both moved there when we were three, and soon discovered our birthdays were exactly one week apart, and from then on we became inseparable.

I lived in Troubridge Road which is one of the few remaining roads, and leads directly to the little cafe now known as Humphries, but was then known as the Sunday School. Every Sunday afternoon between two and three, we all used to troop over there and sit on the wooden forms or chunky wooden chairs, have a story and sing hymns accompanied by the rickety old piano, all under the gentle care of Mr Brewer. The highlight was the annual Sunday School outing when we all used to pile on the coach and go to Maldon for the day. Other than that, the nearest we came to a seaside, which is what we counted Maldon as, was the short stretch of sloping mud leading down to the waters edge to the right of Troubridge Road which we lovingly called "The Beach".

We did not realise it at the time, but we were unbelievably lucky to have such a rich environment to grow up in. Our whole lives were lived around the lake and forest. We fished for frogspawn in spring, made dens inside the Hawthorns or climbed like monkeys up the tree which soon became known as the Monkey Tree, and which is still there to this day. We were carefree and daring taking risks which would never be allowed for todays children. Trish and I once made a den, at the end of a garden, that backed onto Forest Glade next to the River Ching, and Trish's mum, my adored Aunt Peg, used to clean for the owner. He was a magistrate, and we lived in constant fear of being caught and sent to prison for life if we were ever discovered trespassing. We even planted flowers outside our den, in what we regarded as our very own secret garden. We were very daring, and I wonder what he thought when he eventually discovered our den at the end of his garden where the fence had surprisingly broken down, and magically, a path had suddenly arrived leading into it.

I like to think he would have smiled, as one Christmas we went carol singing and knocked on his door with our rendition of Silent Night, and He opened the door. We were alarmed. But he smiled, and said – our faces were much prettier than our singing, and gave us half a crown, a huge amount of money for us. So perhaps he did recognise us after all, as the two den builders who had completely taken over, and transformed the end of his garden.

All happy, golden days. Trish and I still keep in contact all these years later and count ourselves as extremely lucky to have had such a paradise to grow up in.
Rob Rance's parents were the first family to move in to the estate in 1947
150 AIROH aluminium and 26 ARCON asbestos clad prefabs were built on the Highams estate during 1947. Using copies of the original council plan, plus Hale End ward Polling District records, I was able to add road names and numbering, to produce an estate plan that now hangs in Humphreys Café. This hall was our Sunday school/ community hall and appears to have been associated with an AA gun emplacement there during WW2. There was an air raid shelter next to it, and our son Scott said that during renovations of the old hall, rail tracks were found when digging the floor up. There is a photo of a 1953 Coronation party behind Troubridge Ave, where you can see the old hut and shelter. This is also in Humphreys along with various old family photos.

My parents, William and Rose Rance, were the very first family to move to the prefab estate during 1947, into No.1 (of 6) Troubridge Avenue. I was born early 1948 and remained there until I was 5. You could run straight from it, across the grass down to HP lake, where my older half-sister did go swimming in, despite cows going into it as well. Many of my cousins would visit, as they lived in flats in Walthamstow. My brother made dens to hide in and carved a giant footprint in the dirt to scare other kids away. My father ran a darts club in the community hall and there is a photo of his cups and shields, me as a cowboy, my brother, sister and a cousin, dressed as red Indians, outside our prefab. We could get lovely ice cream, lollies and drinks at the 'Boat House', as well as hiring a boat to row around the lake. My sister dug up a small object in our rear garden, which I found in a draw when I was about 10. It turned out to be a Roman coin, so there may have been an encampment there. We moved to an Oak Hill council estate house, but it was only a few hundred yards away, so we still played around the lake and in the forest. It was a wonderful place to have grown up in.

In 1942, a new Royal Navy destroyer, HMS Troubridge, was adopted by the community of Walthamstow and the name was used for two of the street names on the estate.

My now wife Mary, moved onto the estate in 1954/5 and lived at the other end of the estate. She used to go fishing with her father and her mum would bring them a cooked breakfast by the lake. She and friends used to go 'scrumping' the fruit trees in the back gardens of the 'big houses' behind where she lived. She remembers 'Pop' selling groceries from his old estate car and letting the kids sit on the tail gate while he drove around. There was a van that sold vegetables and also a man, who would cycle around selling ice cream from a large box on the front of his bike.

By 1961 many families had moved/been moved into Walthamstow council houses, and the prefabs started to be demolished. The last people to leave were Eleanor and Edward Tomlin and their dog Paddy, from 8, Troubridge Road. They wanted to stay in Woodford Green, so refused to be re-housed elsewhere. There was an article in the local paper showing her walking their dog and just a few prefabs still standing.
Ancient Origins
At the north end of the lake an area of ancient woodland survives called Great Sale wood and this contains a number of pollarded Hornbeams and mature Oaks which are several hundred years old. The river Ching flows through this wooded area before continuing along the western edge of the lake and through the back streets of Highams Park. Immediately South of the lake and just across The Charter Road the ancient forest continues with Little Sale wood and Mallinson wood, these are semi natural ancient woodlands. The origins of the names Great Sale and Little Sale are believed to be Saxon. The word 'Sahl' from which Sale comes was a reference to Sallow, which was an old name for Willow. This gives a hint of how differently these woods may have looked centuries ago to the mixed Oak and Hornbeam we are familiar with today. These areas of ancient woodland lead up to Oak Hill Wood before merging with the larger Walthamstow Forest either side of the North Circular Road.
Waltham Forest Council lists the location in its parks and gardens of historical interest and it is more than likely that evidence of ancient human activity will be found in alluvial deposits in this stretch of the river Ching. The park is believed to have been the site of the medieval manor house of Heyham. Historic England has designated the lake and parts of the park as areas of archeological priority as there is a high probability of Saxon occupation here. Hale End nearby is certainly mentioned in the Doomsday Book as a Saxon hamlet and a number of local roads have names which can be traced back to Saxon origin. Over the centuries the location has been known as Heycham Town, Heyham Comyn, then Higham Benstead before changing to Higham Hill or Highams. Records from the 15th century show the manor contained common land which included around 400 acres of open heath.
The entry in the Doomsday book 1086 for the manor of Highams (high home) reads:
[Peter holds HIGHAMS (Hill) in lordship which Haldane, a free man, held before 1066 as a manor, for 5 hides. Always 2 ploughs in lordship; 4 mens ploughs.

Then 8 villagers, now 10; then 2 smallholders, now 3; always 4 slaves.

Woodland, 300 pigs; meadow, 18 acres; then 3-5 fisheries, now none.

Then 1 Ox; now 15 cattle, 1 cob, 37 pigs and 2 beehives.

Value then 60s; now £4.10s; when he acquired this manor he found nothing

except 1 Ox and 1 sown acre.]
Highams Park today
The park today is a wildlife haven and the lake supports a wide range of familiar waterfowl. It also has an incredible array of freshwater fish including Rudd, Tench, Eel, Carp and Pike. More than one species of Newt have been recorded and a number of different species of Dragonfly are known to be present. Elusive Red Eared Terrapins have also been recorded here and a sizeable flock of Ring Necked Parakeets are seldom far away. A low boundary with periodic styles separates the lake from the more open parkland and hillside where the Pre-Fab estate once stood creating two very different and unique habitats, one mostly aquatic and the other containing large areas of open grassland peppered with mature trees. In the wooded area to the north of the lake and along the bank of the river Ching to the west it is not difficult to find ancient woodland indicator species in spring when the colonies of bluebells and wood anemone begin to put on a colourful display. There are a number of areas of lapsed woodland pasture around the nearby location at Oak Hill wood which indicate a lengthy history of human interaction with the land. Many important veteran Oak trees can also be found in and around the immediate vicinity.
After recent engineering reports the lake was upgraded to a Category A Reservoir, meaning that flooding here would have the potential to cause loss of life. As a result maintenance works were carried out to raise the Dam while remaining sensitive to the traditional landscape design of the lake and surrounding parkland. Today the dammed end of the lake has a formal seating area which also acts as a viewing platform giving splendid uninterrupted views along the length of the lake and the boathouses behind are now used as workshops. It has a strongly active volunteer and friends group, in addition to a local planning group who worked together to open the community cafe and they collectively play key roles in ongoing conservation work.
Although much of this land was a man made environment once intended to be an ornamental fish pond and manor house garden, it does now feel almost naturalised as a hidden oasis within the forest.
This is an incredibly popular open space and is regularly used by families and dog walkers, which is well reflected in the 72,528 visits recorded In 2014. Inside Humphrys Cafe there are pictures and information about the Pre-Fab estate, put together with the help of some former residents. The grounds cover a large area allowing wildlife and visitors to co exist comfortably with 28 acres owned by Waltham Forest Council and a further 28 acres managed by the City of London Corporation as part of the forest, 6 acres of which is just the lake. From the high ground on the hillside there are a number of good vantage points giving fine views over the London skyline and forest. The park is slightly away from public transport although the 275 bus route does go past the north entrance on Chingford Lane with stops at its junction with The Avenue. Otherwise the park is around a 20 minute walk from Woodford Green High Road via The Charter Road near the top of Chingford Lane at the rear of the Girls School. Further entrances can be found on The Charter Road, Tamworth Avenue, Henry's Avenue and Keynsham Avenue. Parking can easily be found in surrounding streets close to most entrances, as always this should be done considerately.
Special thanks to Phil Slaney, Rob Rance, Trisha Gardiner and Chrissy Hopwood for their kindness and generosity in sharing their wonderful stories and personal photos over a number of exchanges to help bring the Pre-Fab estate they all called home back to life for this article, and of course the Highams Park Society who started the ball rolling by providing me with an initial contact from the estate. Thanks also to Joanna Moncrieff of the Chingford Historical Society for pointing me in the right direction. Remaining picture credits to the Vestry House Museum and the Guardian newspaper.
The aim of this review was always to demonstrate that this popular open space tucked away on the edge of the forest bordering Woodford Green is so much more than just a park. It is my hope that I have at least shed some light on just what a fascinating history this location has and why it is so very special to many people whose lives it has been such an important and unforgettable part of.
Chingford hatch Chingford plain city of london Epping Forest Epping Forest act Hale end Highams Park Prefabs Saxon Woodford green