Navestock And Passingford Bridge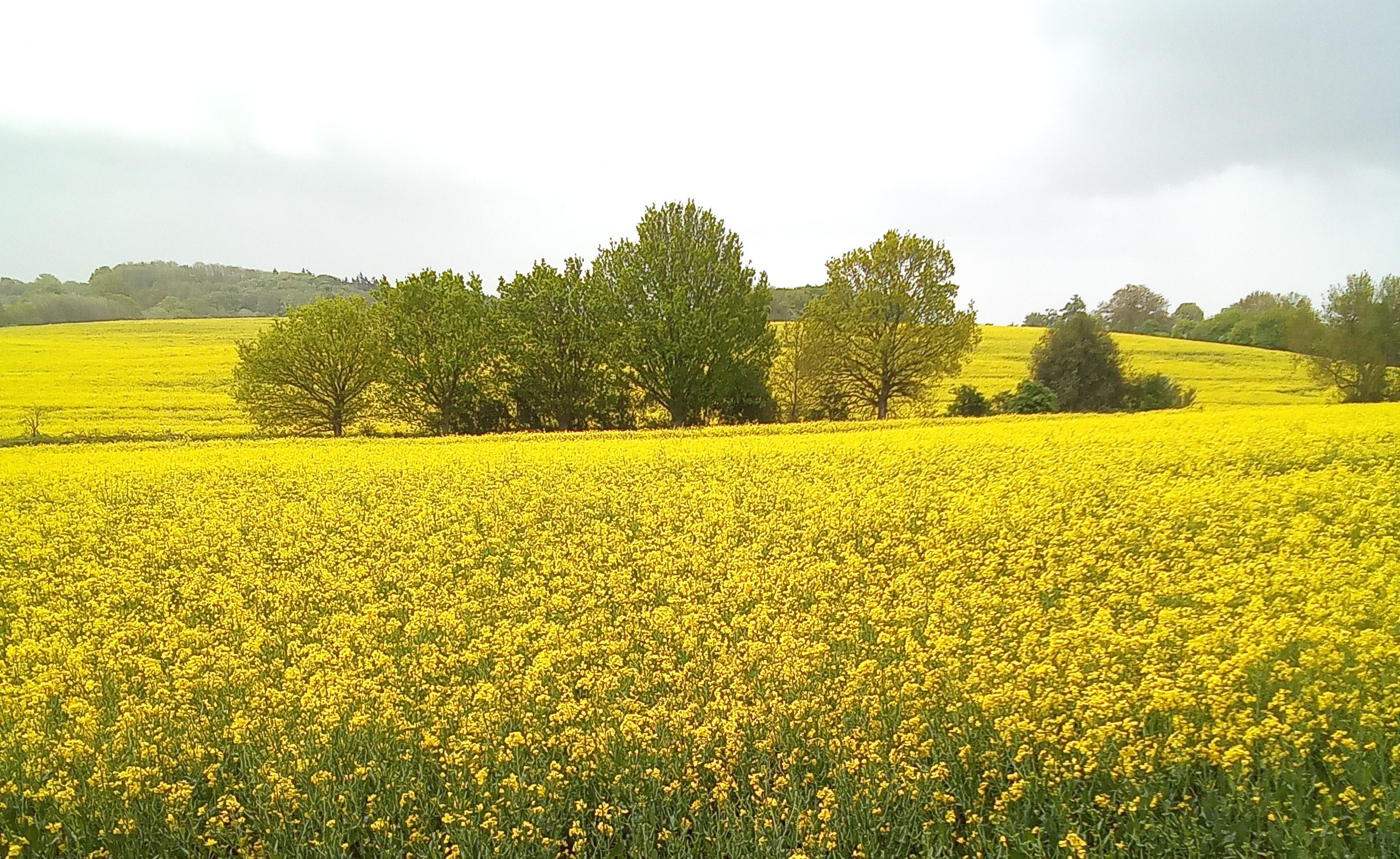 This is a longer walk best suited to experienced walkers who are familiar with the public footpath and bridleway network and map reading. As it uses a large number of both long and short public footpaths, bridleways and public byways through a number of different parts of the district I'll refer to them by their numbers and Parishes from the Essex Public Right of Way interactive map for ease of reading.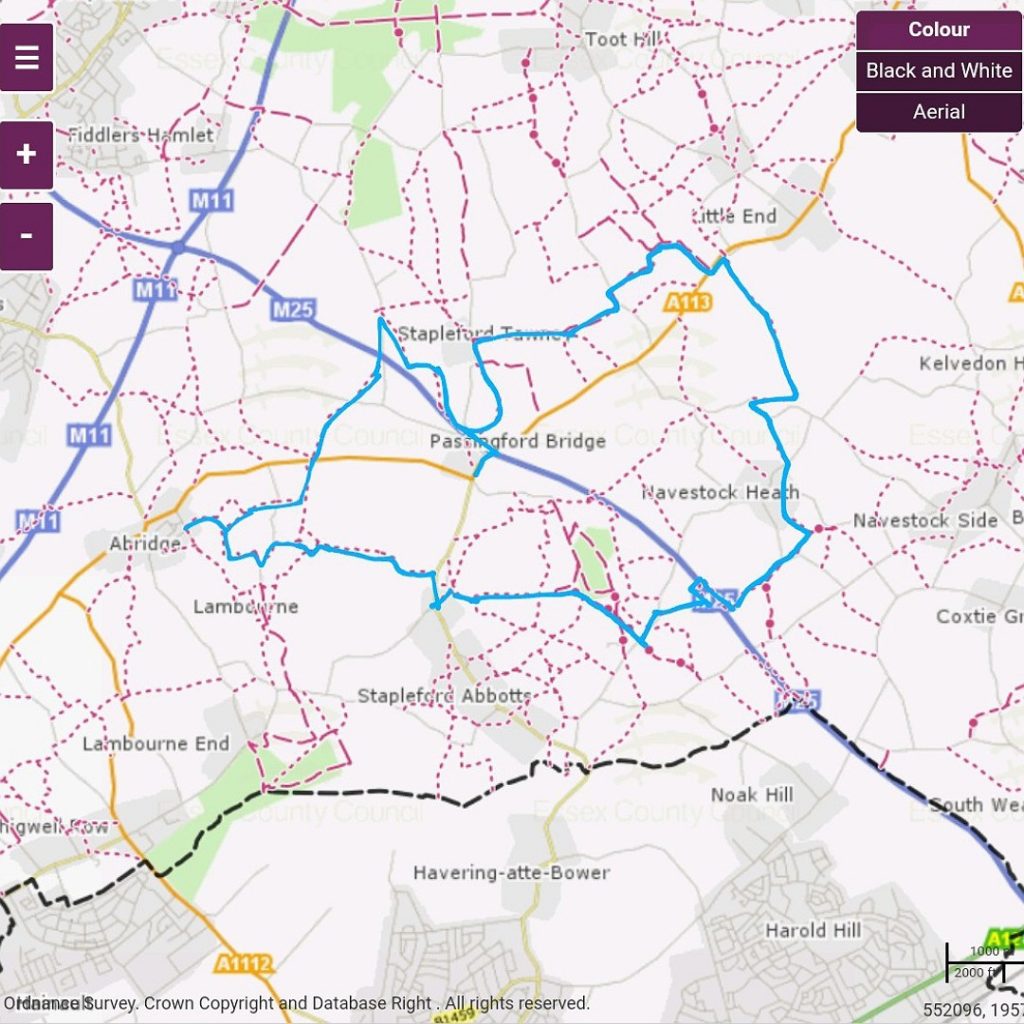 Ordnance survey map credit to Essex County Council
I start this walk from New Farm Drive in Abridge, following public footpath number 2 (Lambourne) between New Farm Cottage and Copperfields which leads to Apes Grove. On reaching the Grove I turn right following the footpath South where it merges with footpath number 25 (Lambourne) along the edge of the private Alder Wood then goes through the Jubilee Plantation. On exiting the Jubilee Plantation I follow public bridleway number 26 (Lambourne) East out on to Church Lane. Here I cross Church Lane going straight into the next field where I pick up public footpath number 33 (Lambourne) keeping the hedge to my left. This eventually merges with a shorter public footpath number 5 (Lambourne) which takes me directly to the North edge of Great Wood Lambourne, where I turn left following public footpath number 8 (Lambourne) keeping the hedgerow to my right. After around 135 yards I turn right through the hedge following public footpath number 7 (Lambourne) passing an old wartime bunker and continuing East along the top of the landing strip at Stapleford Abbotts Aerodrome, and stay on the path in an Easterly direction until I reach Woodside Farm and come out onto the B175 Stapleford Road.
Here I turn right past the front of Gordon Cottages and walk along the verge South for around 425 yards then cross over going through the entrance of Old Rectory Farm where I pick up public footpath number 4 (Stapleford Abbotts) and continue East to St Mary the Virgin Church, where I then bare right following public footpath number 31 (Stapleford Abbotts) for 130 yards before it merges with public footpath number 7 (Stapleford Abbotts), here I continue East following the path along the field edge for around half a mile until I reach Top View Farm at the bottom of Curtis Mill Lane. I turn left over the style here and walk East along Curtis Mill Lane which follows public byway number 28 (Stapleford Abbotts). I continue in an Easterly direction for around another half a mile passing Honeysuckle Cottage, Brookside Farm and Oak Farm. Just after Oak Farm I turn left following the driveway to Curtis Mill Cottage for 20 yards before turning right onto public byway number 61 (Navestock) which I follow East for around 370 yards until I reach Murthering Lane.
At Murthering Lane I turn left walking along the lane for around 350 yards then cross over to pickup public footpath 31 (Navestock) beside Willow Tree Cottage. You need to exercise caution here as this path crosses a tiny airfield. Staying on public footpath number 31 (Navestock) the pathway goes East across this airfield toward the M25 where it crosses below the motorway through a concealed narrow tunnel. On exiting the tunnel the footpath goes right heading South East alongside the motorway embankment for around 450 yards before turning left heading North East away from the M25. After around 550 yards I come out onto a narrow track where I turn left following the track North East for a short distance before reaching Navestock Heath House at the junction of Old Road. Here I turn right walking North East along Old Road for around 220 yards before picking up public byway 45 (Navestock) which I follow for around 310 yards before turning left down the driveway to Little Bower Farm, which is public footpath number 60 (Navestock). This pathway goes through the farm and across a small field and ends on the edge of Navestock Heath.
The open heath at Navestock has a bleak appearance and was once the site of a Workhouse and Almshouses. In the surrounding fields one or two moats remain from long demolished medieval dwellings. Unsurprisingly due to it's proximity to the river Roding there are repeated mentions of flooding over the centuries and many reports of damage to bridges as a result, much as we see today. Navestock is an ancient parish between Kelvedon Hatch and the river Roding, bordered by remnants of what was the great forest of Essex. Earthworks remain of what were believed to be hill forts of an unknown age which occupied defensive positions, one of these was near Beacon Hill. Although there are many timber framed buildings around Navestock, few pre 16th century buildings survive although older dwellings will certainly have existed at one time. Navestock has a very long history of being an agricultural parish and historically there are no real records of any other form of employment, most clearly evidenced by the substantial drop in population during the Agricultural Depression of 1871-1881 when many residents left the parish to find work elsewhere.
The name Navestock is believed to be a Saxon reference to a 'Stump on the headland'. Navestock Heath and Beacon hill are the two highest points at around 300 feet above sea level and would explain the inference to an elevated 'headland'. Lots of Roman and Medieval activity has been found in the surrounding countryside and there is evidence of a Bronze Age settlement at Navestock where axes and hand tools have been discovered. Crossing the Heath I head North to the junction of Murthering Lane and Sabines Road, where I turn left to the first bend where I enter the field then turn right, keeping inside the field edge parallel with Church Road for around 270 yards before reaching public footpath number 47 (Navestock) which heads North across two fields to Shonks Mill Road. Exiting the field onto Shonks Mill Road I continue North along the lane for around 250 yards before turning right at Rose Hall Cottages to pick up public footpath number 4 (Navestock) heading East across the fields for around 550 yards until I reach St Thomas's Church Navestock.
The 11th century Church of St Thomas the Apostle has been largely rebuilt from the 13th century onwards. Historic England gives a very detailed description of the history of the church through the centuries, including the high capacity wartime Luftwaffe parachute landmine which landed in darkness one night in the grounds causing such extensive blast damage the church should not have survived. Evidence of this can still be found today as a shallow crater enclosed by a low wooden railing with a sundial in the centre beside the path in the churchyard. The Church contains a number of 16th century artifacts gifted by wealthy landowners throughout the ages.
Leaving the Church I head North along public footpath number 2 (Navestock) which takes me through the former grounds of Navestock Hall. A rather curious addition to Navestock is the well preserved 19th century Icehouse which remains in the small wooded area just beside the Church. This was at one time within the grounds of Navestock Hall which has long since been demolished to make way for park land. The Icehouse is described as an exceptional example of it's type and is believed to be one of only eight in the country. Inside the park an ancient brook once forming a minor tributary to the river Roding was dammed around 1763 by none other than Lancelot 'Capability' Brown to create an ornamental lake, Lady's Pond. Continuing North along public footpath number 2 (Navestock) I pass the huge pond on my left and eventually reach a footbridge over the river Roding. I cross this footbridge onto public footpath number 62 (Stanford Rivers) through the rear of White Bear Cottage, which brings me out onto the A113 London Road.
Many river crossings are mentioned in 15th century records and there are hints that some of them may be even older river crossings. The most important of these was Shonks Mill bridge which connected Navestock with Stanford Rivers. The course of the river Roding has altered over the centuries giving opportunity to build Water Mills at various points along it which have long since gone, a repaired 17th century humpback bridge remains from one such Mill still containing a small arch for the Mill race. Along this stretch of the river Roding it is impossible not to be aware of the numerous Skylarks which dart up into the air around you, singing beautifully high above like exotic songbirds as you walk through the riverside cornfields.
Turning left onto the London Road, I pass the Woodman Public House on my left, a timber framed Inn dating from the late 1600's. A short distance from the pub I cross the road to pick up public bridleway number 28 (Stanford Rivers) on my right, which heads North uphill through the field before arching North West, then curving South West and merging into public bridleway number 29 (Stanford Rivers). Here, on crossing a footbridge over another small tributary to the Riding I find an intriguing collection of drilled pebbles tied to the handrail and an oddly placed pair of wooden shoe stretchers. This public bridleway continues in a Westerly direction crossing Berwick Lane and continuing West through Woodside Farm before merging with public bridleway number 14 (Stapleford Tawney) which continues along the south edge of Bob's Barn Wood, before exiting the fields onto Tawney Lane opposite Great Tawny Hall Farm. Here I turn left walking down the lane following public bridleway number 14 (Stapleford Tawney) south for around 300 yards before entering the field ahead of me to pick up public footpath number 16 (Stapleford Tawney) which runs across the field diagonally in a South Easterly direction toward Passingford Bridge.
Exiting public footpath number 16 (Stapleford Tawney) onto the bottom of Tawney Lane I turn left then right at the junction to follow the short public footpath number 23 (Stapleford Tawney) out onto London Road where I then turn right going under the motorway bridge heading South to take a short detour to Passingford Bridge. In Medieval times this was more crudely known as Pyssingford which then became Pissingford in the 12th century. This name remained until the 19th century when the more familiar name Passingford came into play. There are several interpretations of where the previous names may have been derived, including the 'Place where peas grow' to quite literally the 'Place to relieve oneself'.
There has been a Water Mill at Passingford Bridge since well before 1086. There was once a natural gravel bar in the river which formed an easy crossing point as it made the river shallow here. If you were going to build a Mill on the river Roding, then Passingford Bridge would not have been the place to do it as evidence shows the Roding would have been far too shallow here at that time to house such a Mill. The builders were not deterred by this and a deeper channel was dug out specifically to divert the water in order for the Mill to operate. One can only imagine the feat of engineering and workmanship this would have taken to complete in the 10th century.
The current mill house is an 18th century timber framed building and is weather boarded with hand made roof tiles, sadly it has seen better days. Graffiti can be found inside of the names and dates of various millers, Zach Tuck 1760 being the earliest. The Chapman and Andre maps from the 17th century show that at one time there was also a Windmill situated here as well as the Passingford Water Mill. The Mill was converted to mechanical turbine operation in the early 20th century and remained in use as a working Mill until the early 1980's. Looking across the flood plain from the London Road, when the meadow grows taller in summer it almost feels like the Mill wouldn't look out of place in a John Constable watercolour.
Historic England gives a brief overview of the current 18th century Mill House at Passingford Bridge. Sadly very few records exist of it's 10th century predecessor which appears in the Doomsday Book.
Leaving Passingford Bridge I go back the way I came heading North along London Road back under the motorway bridge before turming left along public footpath number 23 (Stapleford Tawney) and follow the path back to Tawney Lane. I continue West along Tawney Lane for around 190 yards before picking up public footpath number 24 (Stapleford Tawney) on my left. This pathway remains close to the motorway for around 500 yards before going through a wooded area and merging with public footpath number 15 (Theydon Mount), which then goes in a North Westerly direction across Bush Grove Farm, coming out onto Mount Road directly opposite St Michael Church at Theydon Mount. Here I turn left walking South down Mount Road crossing above the M25 motorway.
A short distance after crossing over the M25 I enter the North East corner of Abridge golf course following public footpath number 14 (Theydon Mount) South West across the golf course for just over 500 yards before reaching Epping Lane, where I turn right and then left just past the stable yard continuing South West along public footpath number 14 (Theydon Mount) until it merges with public footpath number 18 (Theydon Garnon). I continue South West until I reach the river Roding, crossing the footbridge onto public footpath number 24 (Lambourne) which takes me out onto Ongar Road. Here I turn right then cross over to pick up public footpath number 4 (Lambourne) walking South past Abridge garden centre and continue for just under 500 yards until reaching Pryors Farm. Opposite the farmhouse I turn right heading West across the fields still walking along public footpath number 4 (Lambourne) walking between the Elms and Lambourne House before coming out on to Church Lane. I cross straight over the lane onto public footpath number 2 (Lambourne) which takes me South West to Apes Grove where I walk around the edge of the Grove following public footpath number 2 (Lambourne) South West across the paddock to the rear of New Farm Cottage, where I exit the path back into New Farm Drive in Abridge where this walk began.
The most notable part of this walk is the beautiful scenery once you escape the noise of the motorway. The distant views over the countryside from the higher points along this stretch of the mid Roding are stunning, only added to by the abundance of wildflowers along the route and the wildlife at every turn. Skylarks are particularly prevalent in the cornfields along this tranquil section of the river and they really put on an impressive musical performance. Buzzards also are very active above the gentle slopes of the valley and evidence of Deer is absolutely everywhere. There are also large amounts of game birds released into the fields here for sport, which are never too far away. This is certainly a much longer walk and is hard going in places but well worth it for the visual rewards it brings in its splendid scenery and wildlife, not to mention the many ancient hamlets and intriguing buildings this route passes.
At thomas Epping Forest District Icehouse Navestock Ongar Roding Stapleford abbotts Stapleford tawney