Bluebell Woods In And Around The Forest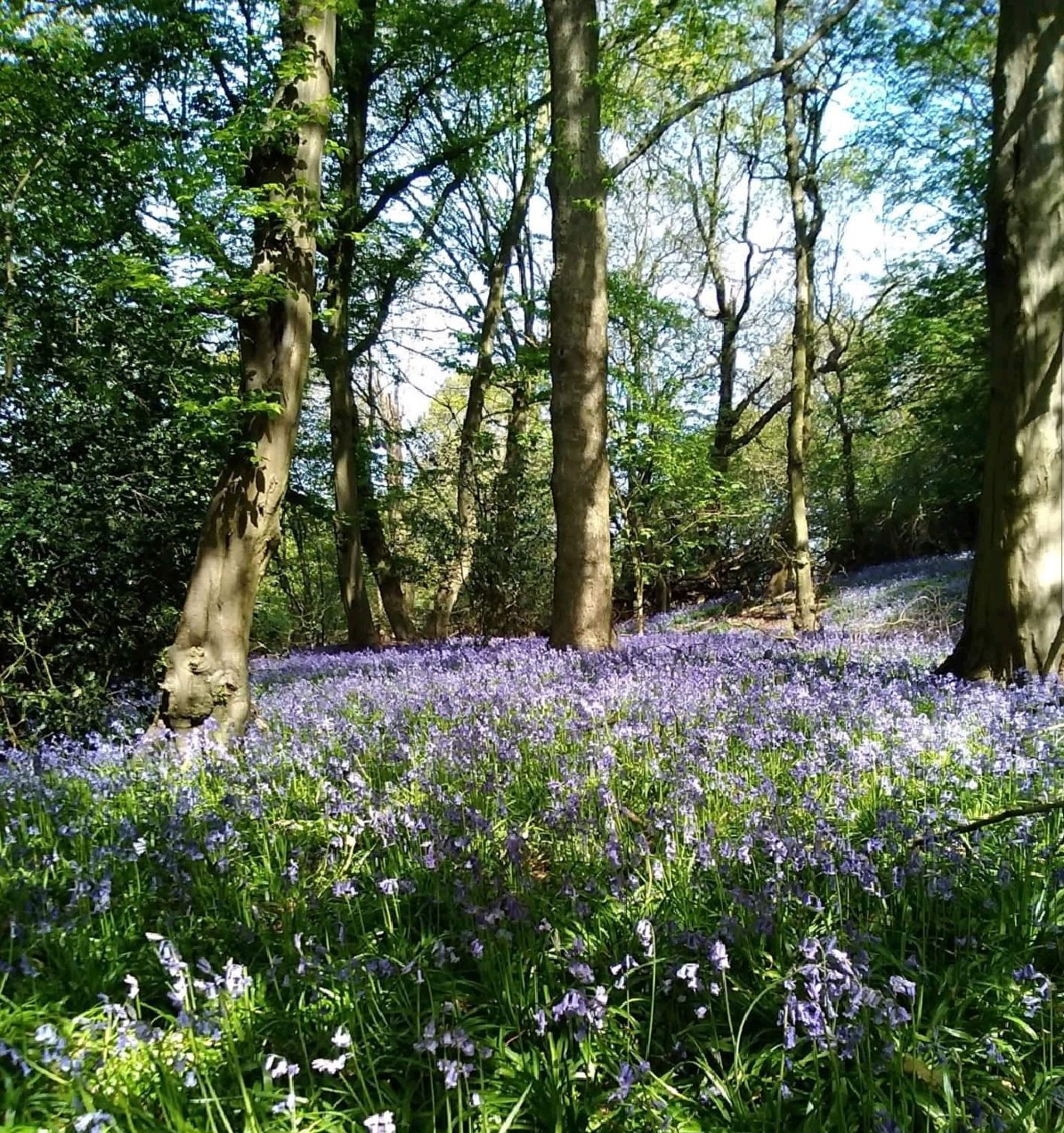 Every spring there are a number of locations in and around the forest which come alive with Bluebells. The purpose of this review is to highlight a collection of some of the more familiar sites to view them in a natural environment at their absolute best. While still a fairly common sight in older woodlands, wild Bluebells are under threat from habitat destruction and human exploitation and need to be protected where they do occur. They are also under threat from hybridisation with more vigorous non native species which can out compete them, although encouragingly some recent research has found the two main species may not actually cross pollinate as readily as first thought. It can take many years for Bluebells to recover from being trampled under foot. Late April to early May is usually the optimum time to view them when the blooms are open at their fullest, before the developing woodland canopy above starts to cast a denser shade over the plants and flowering starts coming to an end.
The English Bluebell (Hyacinthoides Non-Scripta) has a number of key differences to its more robust cousin the Spanish Bluebell (Hyacinthoides Hispanica). The English Bluebell are smaller plants in general with much more slender leaves which produce graceful arching flowering stems with flowers hanging from one side, and are a deep Indigo blue in colour. The Spanish Bluebell is a much bigger more vigorous plant with wider leaves and it produces thicker much taller upright flowering stems which carry flowers on all sides. They also tend to be a much lighter shade of pale blue in colour.
It should be remembered that English Bluebells are a protected species under the Wildlife and Countryside Act 1981, which not only makes it an offence to dig them up or destroy them but also prohibits landowners from removing them from their land to sell. Under Schedule 8 of the Act it is an offence to trade in the bulbs or seeds of wild Bluebells. This Act is designed to protect wild Bluebell plants from unscrupulous bulb collectors selling them on to garden centres for financial gain.
According to the Woodland Trust over half of the world's populations of Bluebells are found in the UK, while elsewhere they are often less common. Ants are known to be incredibly industrious insects but far less well known is the crucial role they play in gathering up fallen Bluebell seeds and spreading them around the colony. It can take five years or more for a seed to develop into a bulb and a Bluebell wood can take many lifetimes to establish. Over the centuries many uses have been made from the juice of plants such as glue and starch, there are currently ongoing studies into the effect enzymes they contain may have on cancer cells. Today the greatest benefit they bring are the breathtaking displays in spring when woodlands are carpeted in their beautiful Indigo flowers. On a warm spring day their perfume hangs in the air above them as insects take full advantage of their nectar.
Bluehouse Grove
Bluehouse Grove in Chingford is a well established Bluebell wood which is close to the River Ching. The easiest point of access is from Winslow Grove off of Friday Hill. At the end of Winslow Grove turn right onto Normanton Park then immediately left onto Bluehouse Road. Continue to the bend and ahead is an alleyway running between number 146 Bluehouse Road and the school playing field. This alleyway leads to a gate into Bluehouse Grove wood. As soon as you enter the wood you will see Bluebells but if you turn left inside the gate and follow the perimeter fence, the main plantation of Bluebells is to the North along the rear of Rosslyn Avenue. This is a beautiful wood which is quite light and open with a long dense carpet of Bluebells beneath a mixture of established Hornbeam and Oak trees. This is a very popular site with local residents and many people return each spring to take photos of the reliable display here, myself included.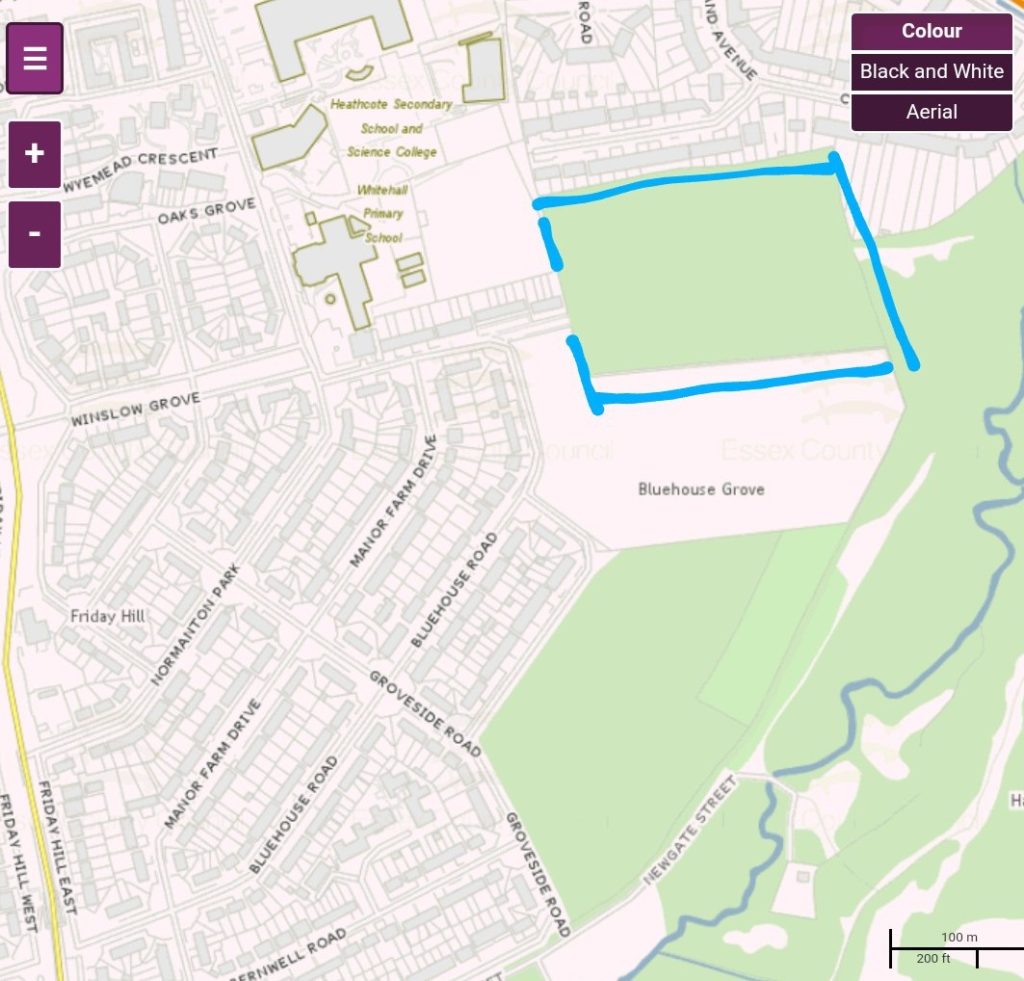 Apes Grove
Apes grove in Abridge is well known locally as Bluebell Wood. Most people you ask in the village will know where to direct you if you ask where Apes Grove is. This is a fairly compact patch of ancient woodland surrounded by arable farmland off of New Farm Drive. Walking around 245 yards up New Farm Drive directly alongside a house named Copperfields on the left is a long narrow alleyway with a dog waste bin at the entrance. This is public footpath number 2. At the end of this alleyway you come to an open field and 250 yards across the field in front of you is Apes Grove. This is a small pocket of semi natural ancient woodland which is contained by an impressive ditch and bank. The wood is mostly coppiced Hornbeam with the occasional Oak and Ash standards. There are some wonderful veteran trees dotted around this wood including a very large Wild Service Tree believed to be the only specimen in Lambourne, but most striking are the spectacular carpets of Bluebells growing among the Dogs Mercury and wild Primroses. This site really is one of the absolute best in the area and well worth making a visit to just for the experience of seeing it in full bloom in the spring.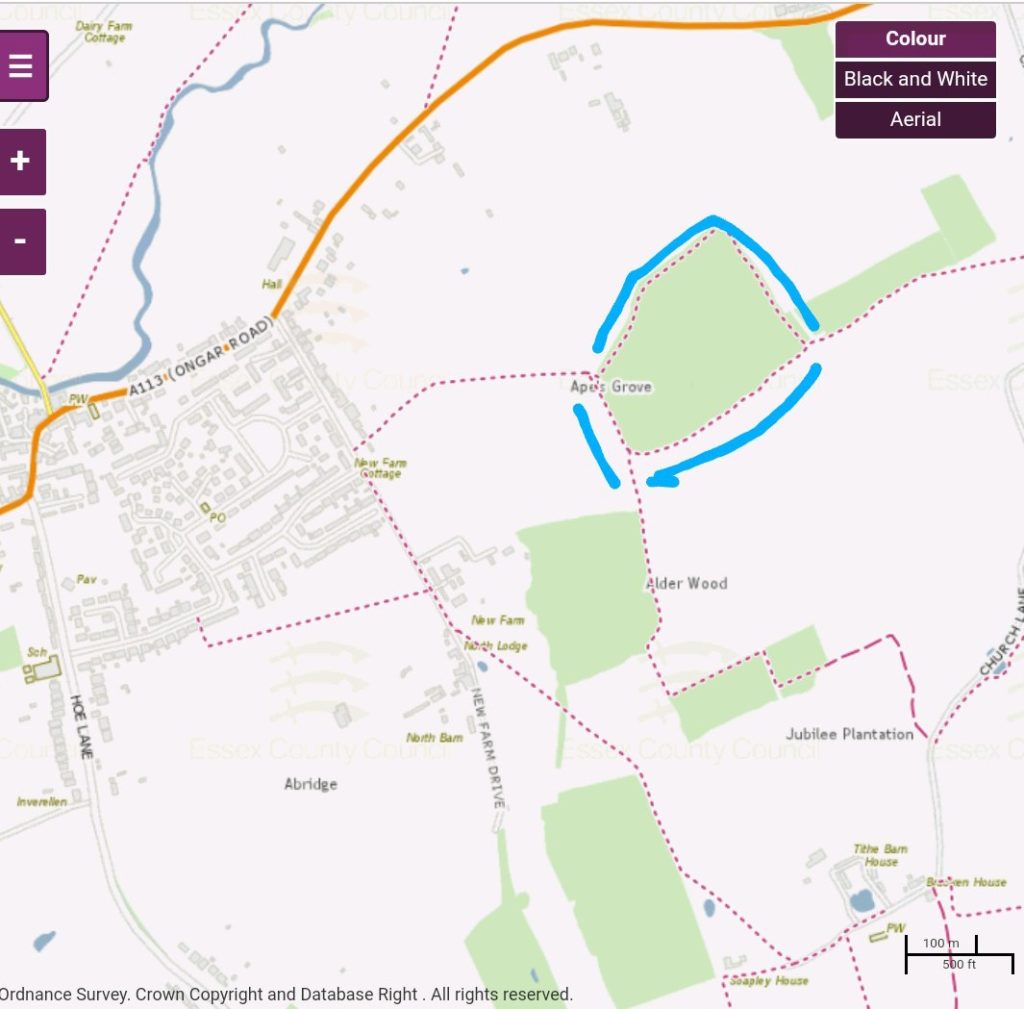 Larks Wood
Larks Wood in Chingford is another area of semi ancient woodland, predominantly Oak and Hornbeam with the occasional Beech and Wild Service Tree. Like Knighton Wood in Buckhurst Hill, Larks Wood has been separated over time from the main body of the forest by housing development and now sits in isolation. Covering two adjacent hills, Larks Wood can be seen from Oak Hill and the top of Chingford Lane as a wooded area of high ground standing proud above the houses. Once owned by a Dairy farmer this became a park in the early 1930's. At the turn of the century its Bluebell displays attracted crowds of people from all around. Today it is described by people familiar to the area as being awash with Bluebells in spring. Throughout the wood almost everywhere you look there are large swathes of Bluebells forming striking banks of blue ground cover under the light shade of the broad leaved woodland. There are entrances to Larks Wood on New Road opposite the junction of Mapleton Road, and via the recreation ground on Normanshire Drive. For a local site, if you are unable to travel further afield this really is worth a visit in spring.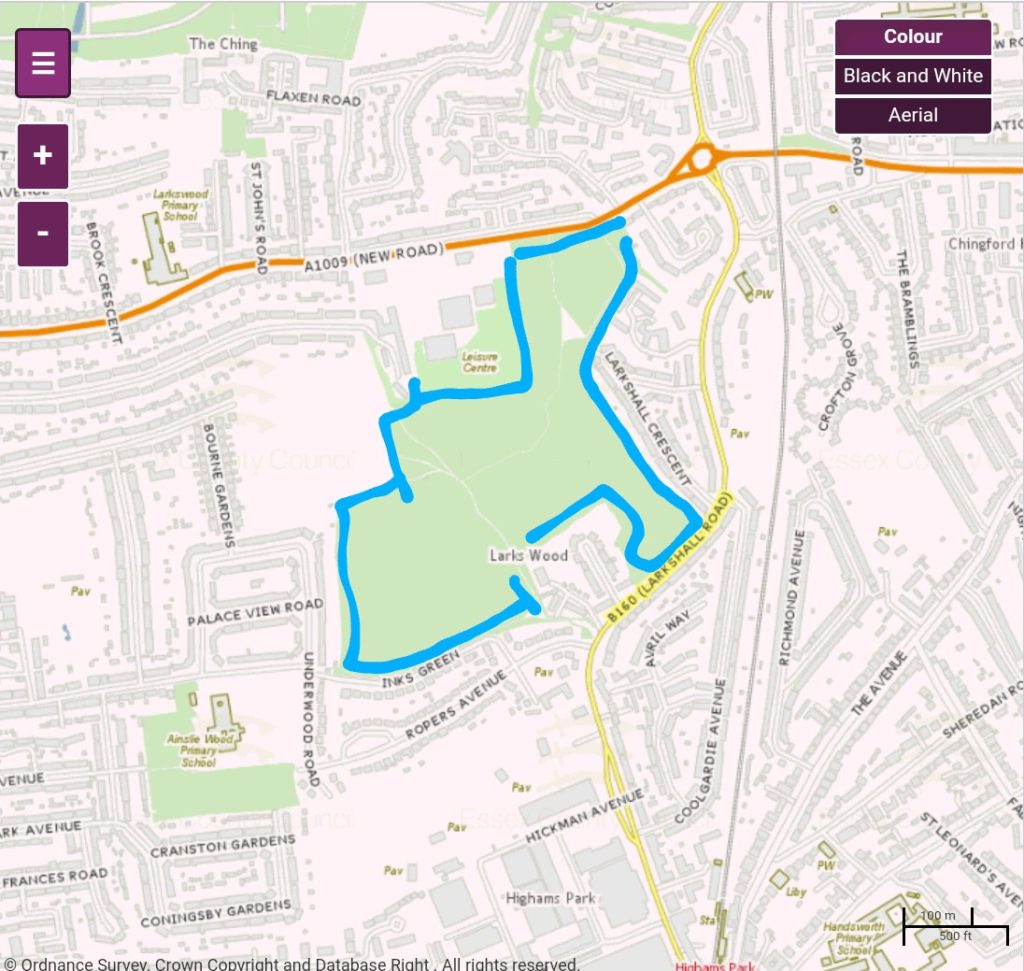 Chalet Wood
Chalet Wood in Wanstead Park is arguably one of the best displays of Bluebells you will find. Named after the Victorian Chalet which once stood beside the wood and served refreshments, extensive conservation work has been carried out to remove undergrowth and fallen trees to maximise the available space for the Bluebells to colonize. Many thousands of plants form an unbroken carpet of deep Indigo blue here in spring. Chalet Wood has been the subject of numerous photoshoots for news articles, paintings and magazines which is honestly no surprise. Chalet wood is an absolute must for anyone wanting to view Bluebells in a semi natural environment at their best. Logs line pathways through the wood and regular signs remind visitors not to pick or walk on the plants. It is possible to find reasonable amounts of Bluebells in other wooded areas around Wanstead Park but the breathtaking colony growing in Chalet Wood is simply stunning. Few Bluebell woods manage to establish such a vast and perfectly continuous sea of colour without at least a few gaps showing, but Chalet wood certainly gives other Bluebell woods an incredibly high standard to live up to. As much as it would be unfair to have a favourite, I really cannot recommend a visit to this wood in peak blooming season strongly enough. Parking is available in surrounding streets and public transport to Wanstead is frequent and reliable by bus or underground followed by a short walk. The nearest entrance to Chalet wood is at the end of Warren Road.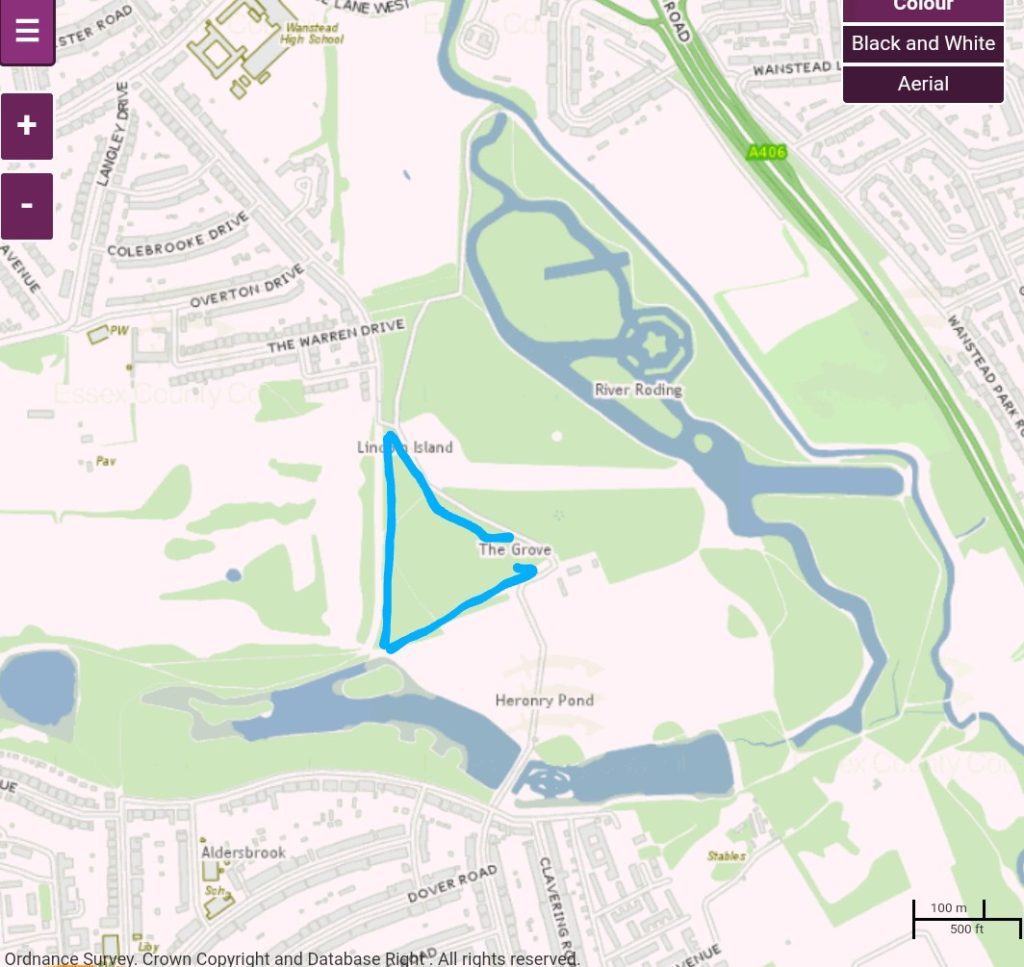 Hornbeam Lane
Hornbeam Lane off of Bury Road in Chingford is another good place locally to view Bluebells in Epping Forest. In the woods running parallel with Hornbeam Lane there are masses of Bluebells visible through the trees all the way up towards Ludgate House. There are narrow tracks leading into the woods from the surfaced road on which you can walk along with large patches of Bluebells all around you. This is a slightly more hidden Bluebell wood and one of those you might find by chance unless you already know about it. Through the trees alongside Hornbeam Lane there are repeat displays of Bluebells until you get closer to Cuckoo Brook. It is at this point nearer Ludgate House you reach an experimental woodland project where most of the trees have been heavily pollarded to completely open up the canopy and the understory removed to create the ideal conditions for smaller woodland plant species. Bluebells are already taking advantage and moving into this area along with a number of other woodland species like St Johns Wort and Foxglove. The easiest access here is by parking in Bury Road car park then walking on the path inside the edge of the forest parallel with Bury Road, then just before you reach Hornbeam Lane look for any small tracks going East into the woods and keep the surfaced road of Hornbeam Lane on your left as you head through the trees to Cuckoo Brook.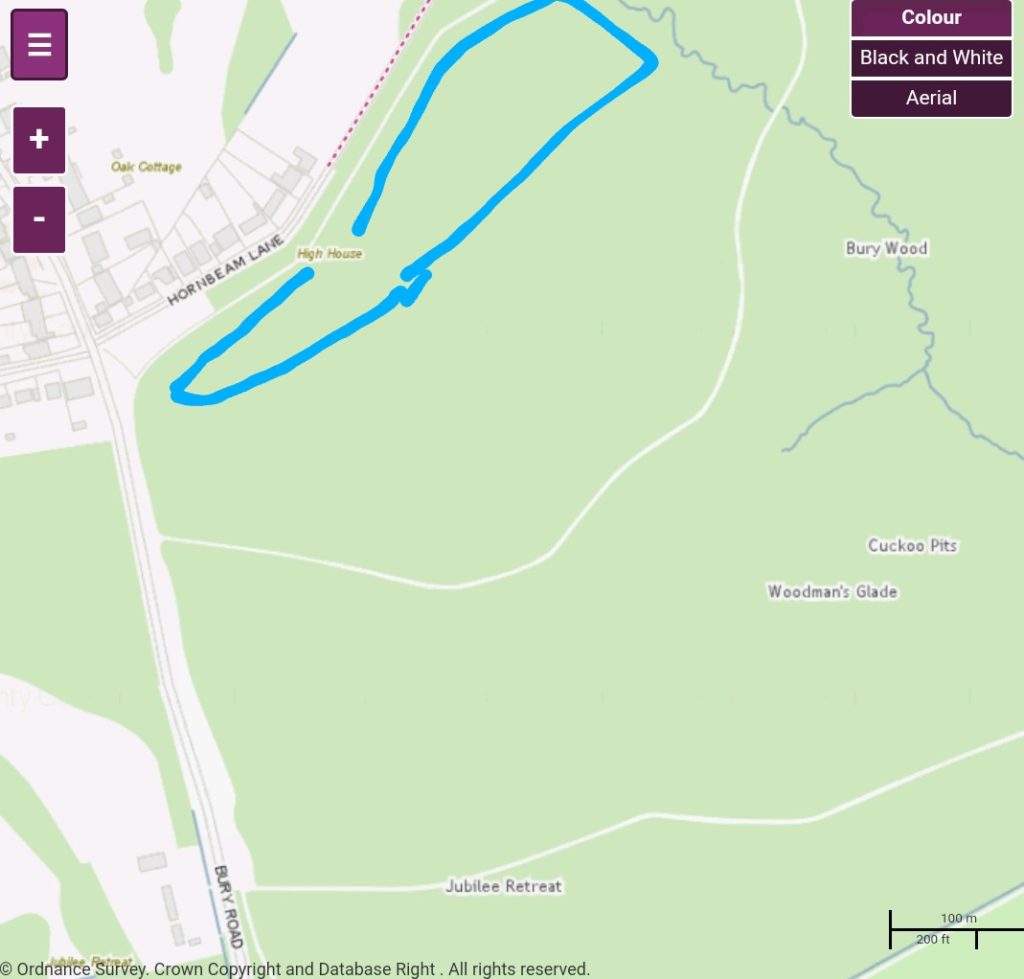 Broadfield Shaw
Broadfield Shaw on the Debden Estate is locally known as Debden Wood. The site is managed by the Woodland Trust. This is a strip of ancient woodland stretching between the M11 and the Central line at Debden and is a remnant of the once great forest of Essex. There are many veteran coppices and standards dotted around in this piece of woodland giving hints to its historical use over the centuries. Its smaller neighbouring strip of woodland is Long Shaw which is relatively new in that it can be dated as being a late 17th to early 18th century plantation. The ancient Broadfield Shaw is the area of interest where Bluebells are concerned. The name Shaw was an old word referring to a strip of woodland bordering a field, larger than a hedgerow but narrower than a wood. There are large swathes of Bluebells here throughout the Shaw which in places are harder to reach through the often dense undergrowth, but there are some generous clearings where good patches of colour manage to reveal themselves. This is listed as one of the best places in the area to find Bluebells. Some coppice work here is ongoing to open up the canopy allowing more light to reach the ground so that woodland plants such as Bluebells can spread further. Access is from Langston Road past the Bank of England following public footpath number 24 which crosses a small tributary of the river Roding. Once across the stream the footpath crosses a field diagonally past two lonely Oak trees then goes through a smaller wooded area before reaching the bottom of Broadfield Shaw. You can then walk West through the length of Broadfield Shaw and continue all the way back towards the Central line railway to explore further inside.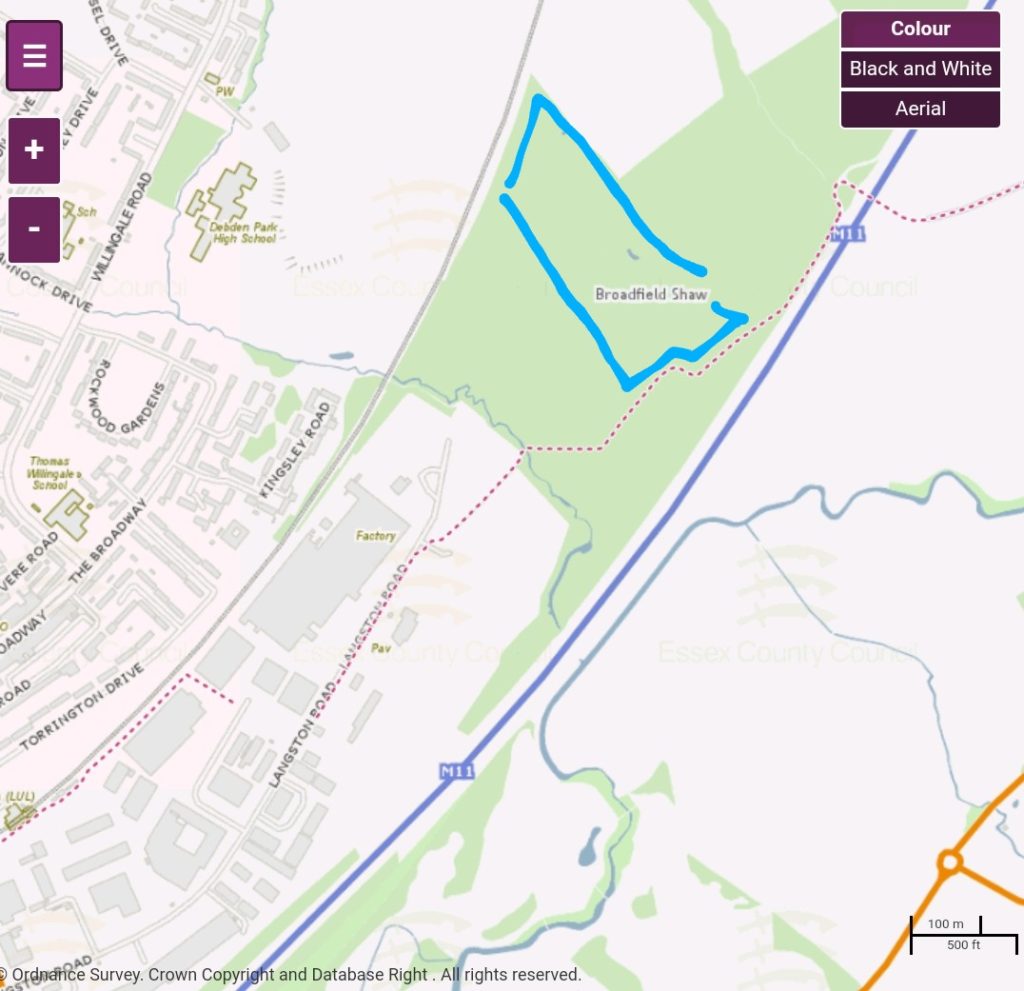 Great Wood
Great Wood in Lambourne is slightly larger than nearby Apes Grove but equally well known for its displays of Bluebells in the spring. This is an ancient woodland with many veteran trees including an impressive multi stemmed Hornbeam on the South Western entry point of the wood known as Mutton Corner. Great wood is mainly a Hornbeam coppice but has many large Oak and Ash trees as well. The wood is surrounded by a ditch and bank enclosure system which may be centuries old. There are a number of ancient woodland indicator plant species growing here such as Dogs Mercury and Wood Sorrell but it is the Bluebells people visit Great Wood to enjoy. There are pathways through the wood with glades either side where thick carpets of Bluebells can be seen throughout the wood. Access is easiest by parking outside St Mary's at Lambourne on Church Lane. Walk back from the Church heading East around 120 yards to the first bend between Bracken House and Church Cottage. In front of you on the bend is a metal gate leading into a field. This is public footpath number 10. Go through this gate and you will see Great Wood ahead of you approximately 180 yards across the field. Head across the field to the wood and enter the gate near the South West corner to explore inside.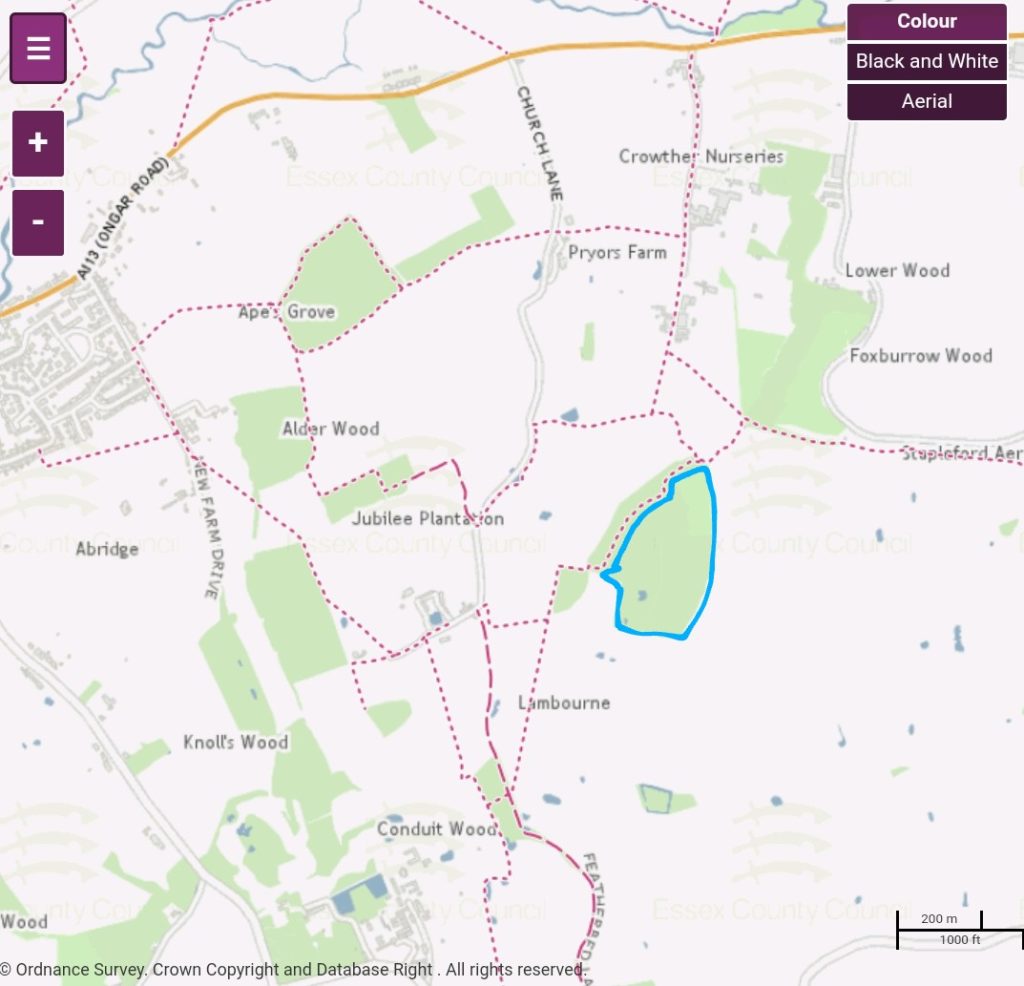 Claybury Wood
Claybury Park in Woodford Bridge has a number of woodland areas. Some of these are plantations which were created at the turn of the century but others are surviving fragments of what was once part of Hainault forest, and these are where the best Bluebells in the park can be found. In the Western part of Claybury Wood there are masses of Bluebells mixed with Wood Anemone. There are numerous glades along the West side of this wood which produce dense carpets of Bluebells in the spring mixed with the snowy white flowers of wild Garlic and they compliment eachother beautifully. There are information boards with maps around the park with the names of the different Woodland areas to help find Claybury Wood, which is the woodland situated roughly between Claybury Hall and the Landmark Water Tower. There are numerous access points to the park with parking available on Roding Lane North, along which there are gates leading into the park. The displays here in spring are well worth coming to view, in summer when the Bluebells have faded Claybury Wood has another lease of life when it's colonies of Broad Leaved Helleborine Orchid flower.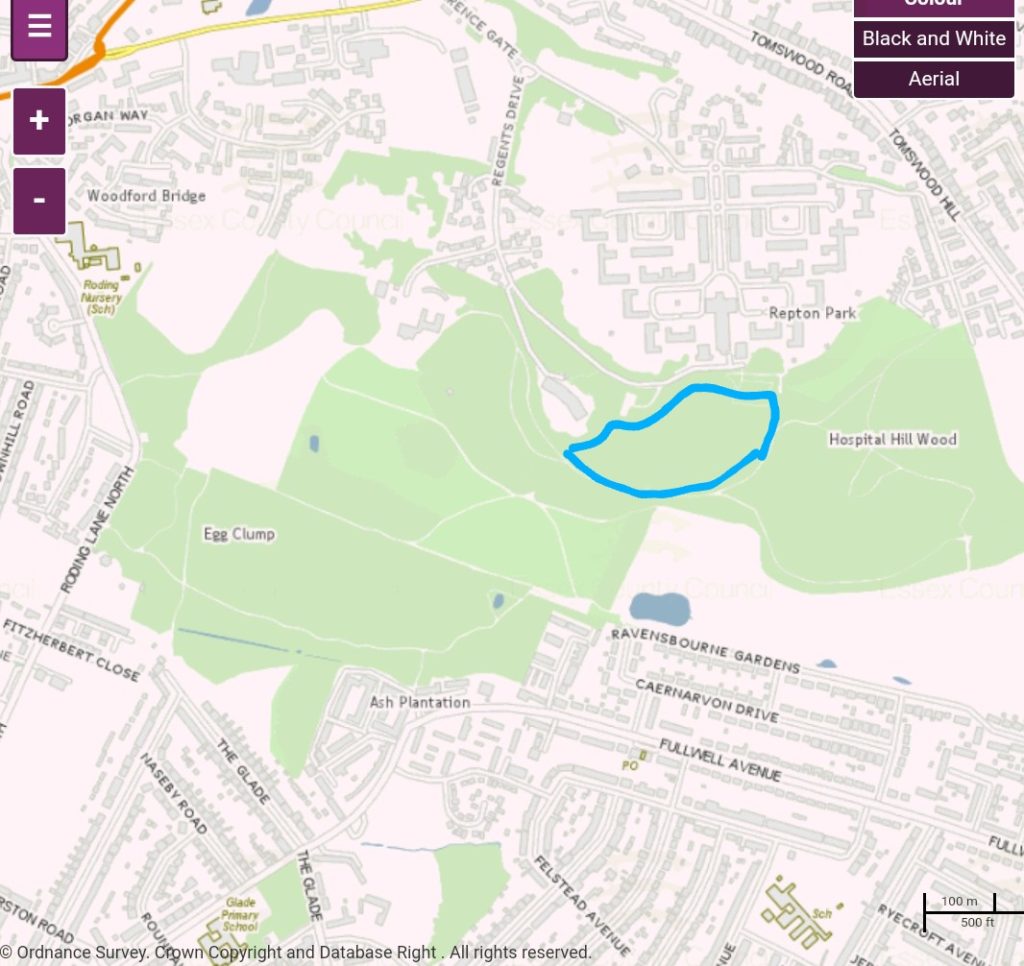 Mallinson Park Wood
The former Mallinson Park Wood in Woodford Green once part of the Highams Park estate, is now part of Epping forest. In the area of woodland immediately South of the boundary of Haven House Children's Hospice is a small but well stocked Bluebell wood situated alongside the rear gardens of Harman Avenue. Although it is quite intimate in scale, this is ancient woodland where the Bluebells are mixed with large banks of Wood Anemone. If timed just right it is possible to view both species in bloom at the same time giving a carpet of white and blue flowers in the dappled shade. The path takes a loop past the rear gardens then goes back into the woods. This is one of those sort of locations most people would stumble upon by accident. The easiest access is from Lodge Villas, walking South into the edge of the forest then turning right down an old bridle path beside number 1 Harman Avenue. Follow the bridle path for around 90 yards then turn right through a gap in the chain link opposite an old dead tree stump. Once inside bear right again following a narrow track which leads you to the Bluebells. You will be able to see them through the trees as you look toward the rear of Harman Avenue. Alternatively an alleyway running between numbers 16 and 17 will lead you to a track directly to the Bluebell wood.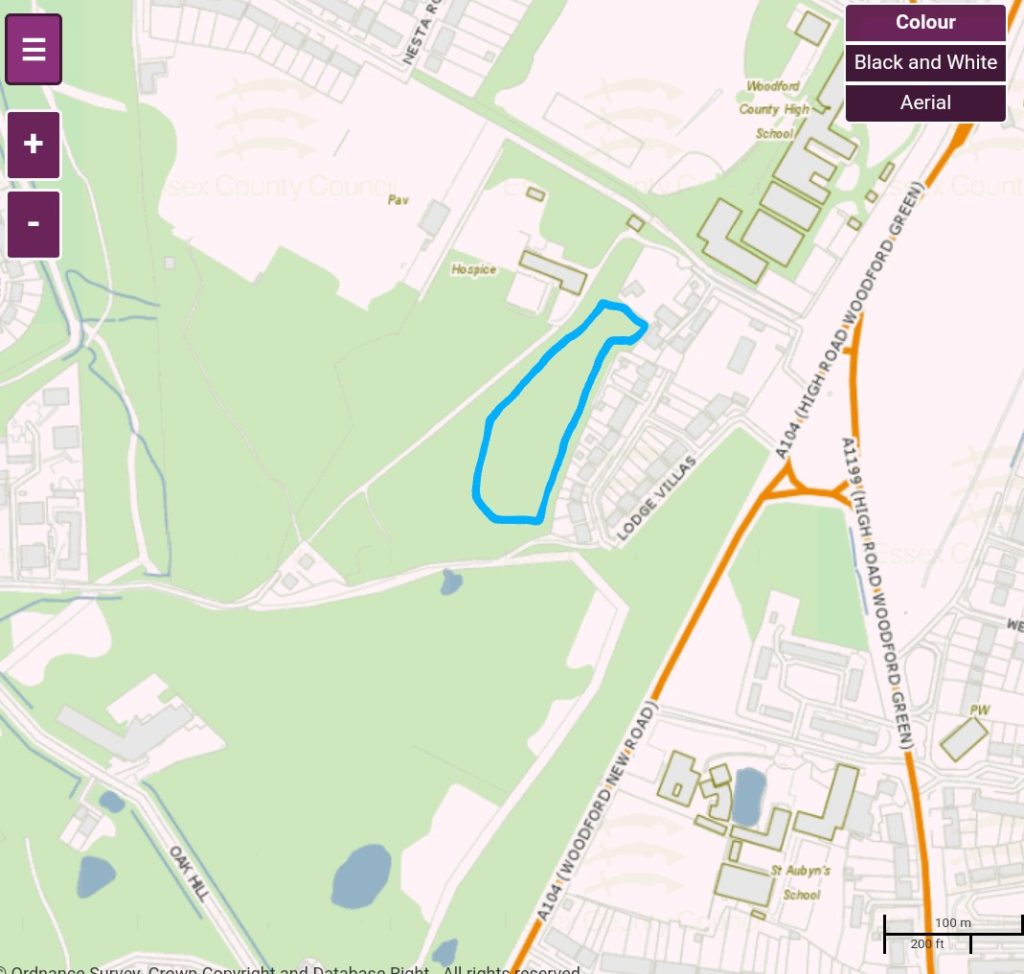 Fernhill Wood
Fernhill Wood situated on the Western perimeter of West Essex golf course has a small bluebell wood alongside the boundary fence of the course. Fernhill wood is an enclosed paddock with gates and is used to graze cattle in summer. This is quite and interesting site in its own right with wonderful views at it's highest points. It has areas of grassland with wildflowers associated with meadows and areas of scrub, but at the top of the enclosure nearest to the fence of the golf course there is a small wooded area with a good crop of bluebells. Access is easiest on foot as this is a bit of a walk away from any parking areas. It can either be reached by following public footpath number 66 downhill across the golf course from Lippitts Hill, or you can follow public footpath number 65 from the bend where Bury Road meets the top of Dawes Hill. Walk down the private road leading to Green Lane going through an emergency access gate just past the last house on the right, then turn right at the first footpath going steeply uphill. This is the bottom of public footpath number 66 and the enclosure on the left is Fernhill wood. There are gates giving access, once inside head uphill and follow the fence line along the boundary of the golf course.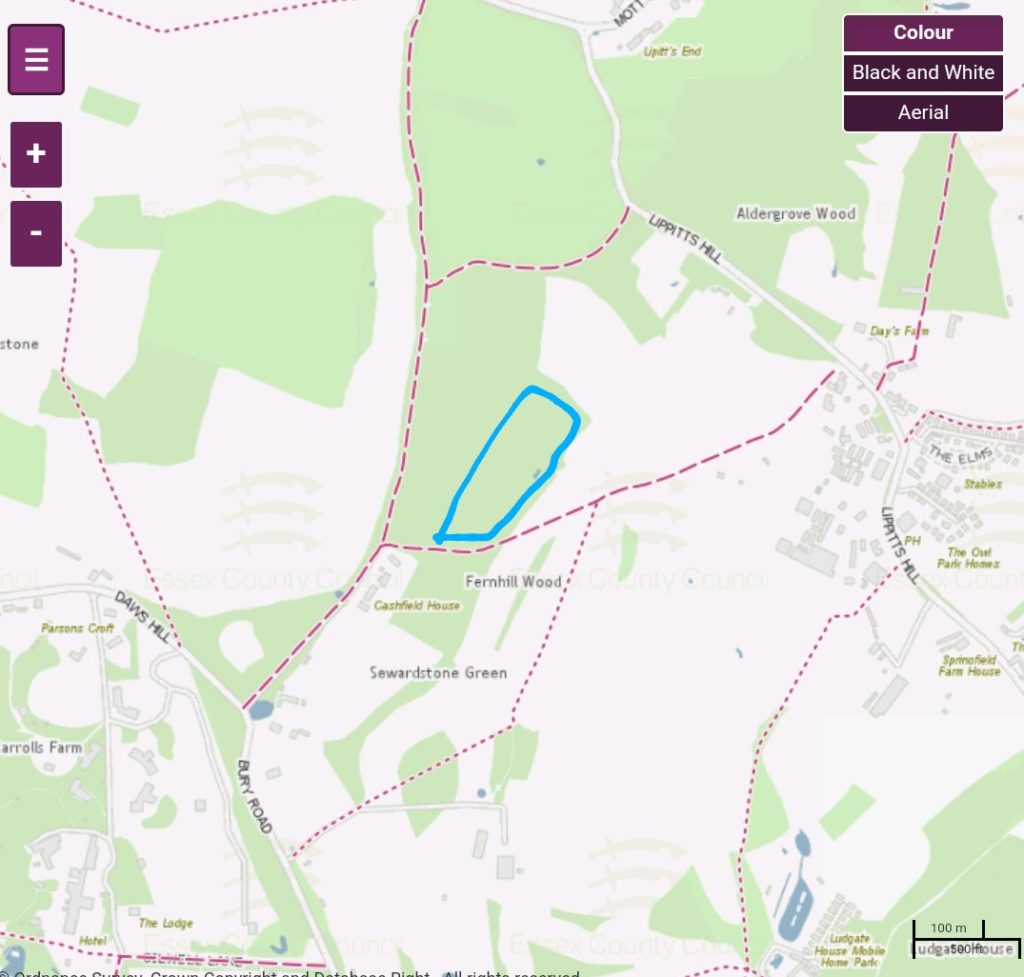 Outside of the district to the East, Hainault forest is a good place to find other large colonies of Bluebells in its ancient woodlands. Similar in habitat to Epping forest many of the same plant species can be found there. Bedford's Park in Havering also has some spectacular displays of Bluebells which are well worth visiting to see. This is by no means an exhaustive list and there will be many other locally known Bluebell woods with public access which have not made it into this review but this is only intended to serve as a starting point to encourage further exploration. Scattered on farmland around the district are numerous old plantations and isolated patches of ancient woodland which have colonies of Bluebells but most of these will be on private land and should not be accessed without seeking permission from the landowners.
Ordnance survey map credit to Essex County Council
https://www.essexhighways.org/getting-around/public-rights-of-way/prow-interactive-map
Apes grove Bluebell Bluehouse Grove Chalet wood Forest Lambourne Larks wood Woods