Roydon and Netherhall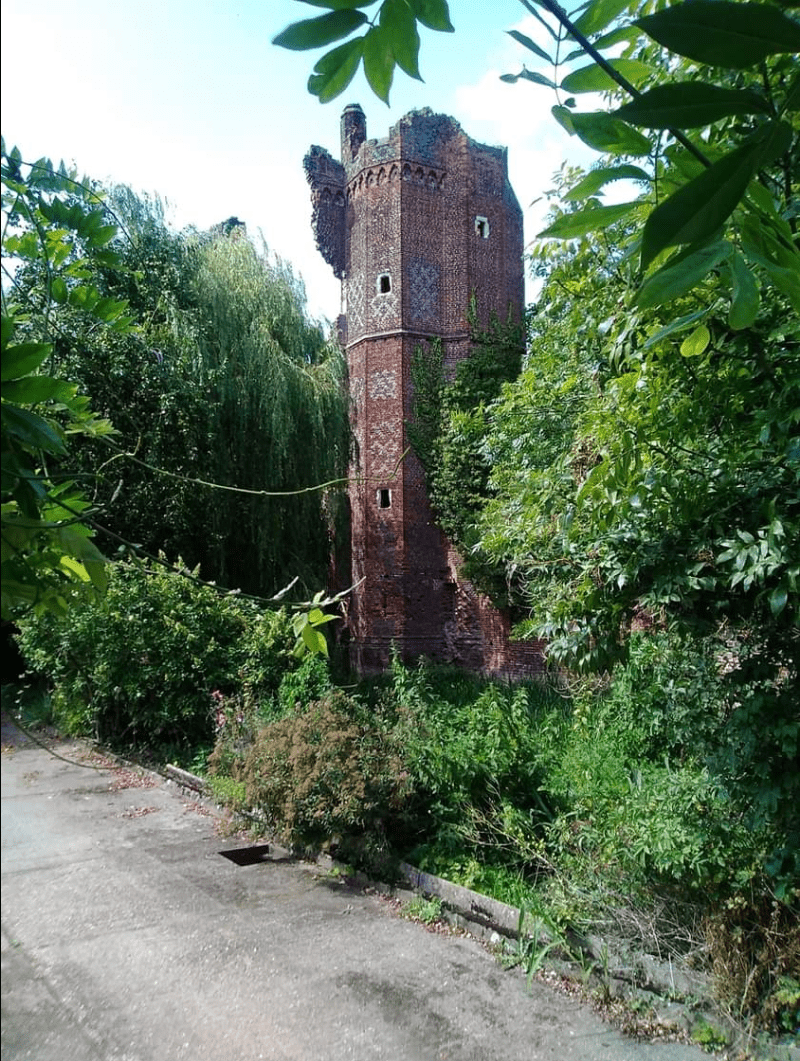 A couple of years ago my research into the old village at Nazeing brought me into contact with a local historian from the Nazeing Historical Society & got me into some very interesting conversations with him. I bought a few of his books as there was so much I wanted to know about Nazeing and it's long history. While reading one of those books I noticed the briefest of mentions on one page about a 14th century ruin situated on the border with Roydon. Of course this briefest of mentions just wasn't enough for me, so I immersed myself in yet more research and what I found out was fascinating. What started off as a simple page in a book which caught my attention momentarily, soon lead me to uncover tales of a long forgotten war between Yorkists & Lancastrians and links to Plantagenet and Tudor Royalty.
Although just outside the Epping Forest District, this really is too special not to include here. Tucked away on private property in the grounds of a farm down a small inconspicuous Roydon country lane is a remarkable reminder of the rich history of the village of Roydon and some of it's more notable well-to-do medieval resident's now living only in history books. I hope in this article to bring at least some of their story back to the 20th century.
Visible from the roadside, hidden behind the trees beside the entrance road to Nether Hall Farm stands the ruins of Netherhall, Roydon. Netherhall was built in the 14th century during the Wars of the Roses when the Houses of York and Lancaster were battling for control of the English Throne. In medieval Essex this would have been considered the grandest abode of it's kind. Netherhall was a fortress built with high curtain walls at a time brick was the favoured choice of building material as stone was hard to come by in Essex, behind the fortifications was a large manor house. There was a moat surrounding the entire structure and the large entrance turrets supported a drawbridge to keep marauders out. This was an age where if you had this sort of wealth you defended it. Built into the gatehouse towers were 'murder holes' where arrows could be fired and boiling oil poured on attackers trying to force entry.
Historic England gives more detailed information about the construction of the fortifications at Netherhall below.
I had made a flying visit here when I first heard about the site and drove past in 2018 to take a couple of pictures of the ruin but I wanted to go back for a closer look & after studying the OS maps I drew up a walking route that would go right past the site after taking in some of the local countryside and scenery. What follows is the account of my return visit to yet another historic relic from the past hidden away from view which like Latton Priory a lot of people would possibly not even be aware existed.
After a foggy start when I arrived in Roydon it didn't take long for the sun to burn through. I started off straight away heading East from the station before taking my first footpath on the right through a small churchyard behind a terrace of cottages. Once inside the church yard the footpath went South through a gate into a small paddock, at the end of which it took me East through what I quickly realised was a Turkey farm. These are Black Turkeys favoured by top chefs. If you think Turkey's come ready plucked and frozen solid I might be about to put you off your Christmas dinner. They don't. They come in large outdoor pens with their own houses in quite nice countryside settings where they get to roam relatively freely inside the confines of their enclosures, but there's one thing. They smell. And that's being quite generous. In spite of the jolly signs inviting me to order mine in time for Christmas I'll probably stick to a Nut Roast this year, but thanks all the same. I get a feeling the escaped Turkey who was running around loose in the back field will have a jolly good Christmas too. Run free my feathered friend!
As I continue East around the edge of a plantation the ground starts to go gently uphill. This is the first section of the Stort Valley Way & looking toward the valley it all looks very green. There doesn't seem to be many buildings from this angle. As I reach the end of the rather square plantation I go left through some railings into the car park of a housing estate then turn right to follow a horseshoe shaped cul-de-sac. Halfway down here the footpath goes through an alley behind a house on my right, at the rear of which I go through a gate into a paddock to rejoin the Stort Valley Way.
The ground continues to rise here and the paddocks give way to a grassy hillside where the views grow more expansive with each step. After going through a hedge I continue along the top edge of two fields, then go through a gap in another hedge out onto a narrow country lane where I turn right, then left to pick up the footpath again. The views keep growing but this time they are different. I can see electricity pilons and grey power station chimneys rising up on the river side below. I'm also starting to see the roofs of commercial greenhouses sparkling in the sun. The pathway continues the width of three or four more fields, then this is where I turn off to descend the hillside back down into the Stort valley.
I walk West downhill through a wooded area and as I reach the bottom the path takes me through the grounds of a commercial salad grower. I'm in greenhouse country now where bags of pre washed salad are grown and packed for the large supermarkets, and with that comes articulated lorries far bigger than these lanes are meant to carry. As I walk out of the entrance of this salad grower I turn right onto a small road. When I came here previously there was barely any verge to walk on and I was very aware of the occasional large lorry going very close past me. Periodically I pressed myself tightly against the hedge to let them pass, then I looked down and noticed I was standing in the tyre tracks of a previous lorry that decided the hedge wasn't much of an obstacle. Not a comfortable feeling.
After a short (and fast) walk I turn right into a much quieter lane thankful for the sanctuary I find, and now I am getting very close to Nether Hall Farm, the reason I risked life & limb with passing lorries. To my left is a large field, to my right row after row of commercial greenhouses. I carry on heading north and after passing a small cottage, to my left I see the white railings at the entrance of a farm. This is the site of the Netherhall ruin which is a privately owned farm but there are very good views of the ruin from the roadside. From the entrance the tall figure of the ruined towers have a strangely foreboding feel and look almost haunting and ghostly peering out from a thin screen of trees, with their jagged partly dismantled brickwork looking broken and unloved.
As I get nearer I notice the intricate patterns where different coloured bricks were used to create a design almost like Celtic Knots in the outward faces of the towers. This really is medieval craftsmanship at it's very finest and it's easy to forget this was built in the 14th century. The techniques used in the construction of the building were ahead of their time, much of which had not been seen at other sites of this era before which gives rise to a suspicion the craftsmen may have been invited from abroad. Evidence of an inner framework of iron and wood have been found, which was very unusual in such constructions. Grander examples of a similar style of gatehouse exist at Hampton Court. The moat is still in place and the waterline has discoloured and degraded the lower brickwork, a lot of it is obscured by undergrowth but what you can still see gives an amazing insight into what a grand fortress this once was. There must have been serious fears of incoming revolts to have taken such extremes, medieval Roydon was clearly not a place to take your chances with domestic security.
The Nether Hall estate was owned by The Abbey of Waltham and changed hands a number of times before it was acquired in the 1470's by Thomas Colte who was from a Northern family and supported the Duke of York's claim to the Throne. He became privy councillor to King Edward IV and his eldest grand daughter Jane married Thomas More, who was a regular visitor to Nether Hall & Chancellor to King Henry VIII. According to his biographer it was actually the 2nd eldest grand daughter Thomas More rather fancied, but he felt it would be insulting to the elder one to persue her younger sibling so out of pity he decided to woo Jane instead. How very noble. Perhaps she was the better cook. Perhaps also being Heiress to the Netherhall estate was just a coincidence. It is unlikely Thomas Colte would have seen Netherhall's completion before he died. Carbon dating shows work started around the late 14th century and was not completed until the 15th century. Looking at the location it's difficult to understand why this particular site was chosen but it was clearly an important place for such a significant fortress to have been built in a time of civil conflict.
Research by St Peters Church Roydon gives more information about the Colte legacy –
Along the driveway from the Nether Hall ruin is a farmhouse which is a similar age and has been much extended since it's original construction. Of the nearby farmhouse beside the ruin, Historic England says;
"GV II*
House. Late C14 or early C15 hall house with C15, C16 and C20 alterations.
Timber framed and plastered, with red plain tile roof. 2 storeys. Originally H
plan, with jettied and gabled crosswings left and right. Second gabled and
jettied wing added at south end in early C16, and long range added at north
end in C15. 1,1,2,1 window range of C20 leaded casements, and 1 bay window.
North crosswing originally had oriel at first floor level. C15 wing was
formerly jettied to front and side, and dragon beam is exposed internally.
Internally most of the timber frame survives, with original crown post roof
to hall, heavily sooted. One ogee door head. C16 wing has original high
quality arch braced side purlin roof. C16 fireplaces. (RCHM 3)"
A further article from St Peters Church in Roydon gives a fascinating account of the visits to Nether Hall by Thomas More –
This for me has been another fascinating journey through history. As I leave the site I have plenty to think about and to research. Why here? Of all the places you could build a place like this? What was the importance of Roydon? Who were they afraid may attack them here? So many questions hit me as I continue North to the end of the lane. I then turned left & left again through a car park that takes me to the footpath that goes around the perimeter of the Glen Faba reservoir, where the river Lea and river Stort merge together. Perhaps the proximity of the two rivers or the Abbey of Waltham is significant, I start to wonder? I take a relaxed walk around the reservoir on nice level ground, no lorries crashing past and no uphill climbing. I start to wonder how am I going to put this walk into writing.
As I exit the reservoir onto the river Stort and walk alongside Roydon marina back to my starting point I have a feeling I'm going to struggle to top these last two rambles through medieval England. First a 12th century Priory in Hastingwood and then a 14th century ruin in Roydon. If I've learned anything from these walks, it's to question and scrutinize every little anomaly I notice on OS maps & look for hidden clues. Having seen the moat here and the moat at Latton Priory on my maps I'm now aware I've seen a similar rectangular water course up in the old village in Nazeing & another at Tawney Common both around dwellings and several in North Weald. All of which I know I am now going to have to investigate further, perhaps these will be the next fortresses I include on my walks which turn out to have an equally fascinating history. Last time I visited Roydon I noticed the village sign had a picture of the Doomsday Book and Henry VIII on it, which I found quite curious at the time. That all makes a lot more sense to me now.
The high street in Roydon village is equally interesting historically and is worth taking time to walk along as it has a significant amount of original buildings. One side of the high street in particular has several houses which are notably very old & give the village a very Old World feeling, including a distinctive Dutch thatched building which is starkly contrasted by the new builds on the opposite side of the street surrounding an old farm house. In front of St Peters is another cluster of very old houses, behind which is the churchyard which has clearly been a final place of rest for many lifetimes. One part of the churchyard in particular is very noticeably an extremely old burial ground.
The marina on the river Stort is also well worth a visit & the river itself makes an interesting walk on its own, with the quaint 18th century Lock Keepers House at Brick Lock Island being particularly interesting with it's arched windows more reminiscent of a small Chapel than a house. It would not be by any means difficult to spend a day exploring Roydon village just for it's many picturesque buildings if nothing else and my own return visit here was certainly worthwhile.
Netherhall Netherhall farm River stort Roydon Stort valley way Uk salads